Rabbit Removal Experts of Minneapolis and St.Paul Minnesota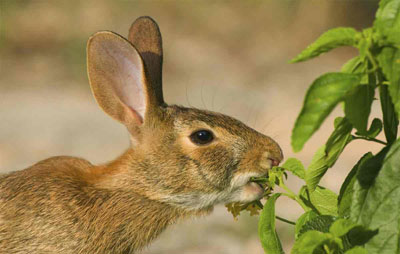 The name "Rabbit" conjures up different things to different people. For children, the name "Rabbit" brings to mind cartoon characters, the Easter Bunny, and creatures like Peter Cottontail who hippity-hops. To a hunter, rabbit is an abundant, sporting, and tasty game animal. However, vegetable and flower gardeners, farmers, and homeowners who are suffering damage may have very little to say in favor of rabbits.
Rabbits can totally destroy a vegetable or flower garden overnight. They can kill trees and shrubs any time of the year and in places ranging from suburban yards to rural fields and tree farms. When rabbits and vegetation are present in the same area, damage control is a must!
If you are sick and tired of tilling the soil, planting the seeds and having the garden wiped out by rabbits before the plants are 2 weeks old, then you need to call the rabbit control experts at Minnesota Wild Animal Management. With years of experience in "Rabbit Proofing" gardens and trees, they have the skills, equipment, and latest techniques necessary to save your trees, shrubs and gardens.
Complete extermination of rabbits is neither necessary nor desirable. The Minnesota Wild Animal Management professionals can provide and create control techniques, that when skillfully and correctly applied, make rabbits an accepted and interesting addition to your backyard or rural landscape.
Don't let the rabbits win! Call the rabbit control experts at Minnesota Wild Animal Management, and let them show you how everyone can get along!!