Skunk Removal Experts of
Minneapolis and St.Paul Minnesota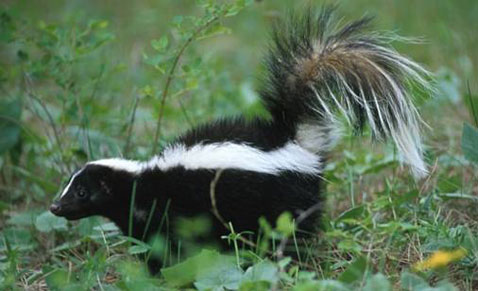 Common throughout Minnesota's cities, skunks can become a problem in almost any home. Skunks are easily identified by their two white strips running down there black fur. These animals often seek shelter in sheds, crawl spaces, garages, and under decks or your house if possible.
Skunks are omnivores, generally eating grubs, mice, insects, and eggs, but sometimes they will eat bird food from feeders, or garbage not tightly shut. Another reason skunks can be a problem is the foul smelling liquid, a glandular secretion, they are able spray. If a skunk is living in or around your home and they spray this liquid, the smell will be very potent and noticeable. The last problem with skunks is their chances of carrying rabies. A large amount of these animals do carry the disease, so be careful if you encounter a skunk.
At Minnesota Wild Animal Management Inc. we have been dealing with skunks and other wild animals for 28 years. We are well experienced in handling these pests. We can remove skunks effectively, keeping you safe. Once they are removed we can take measures to make sure they will not return.