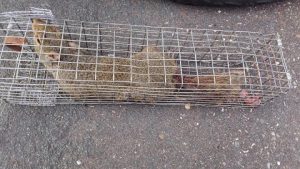 You can love animals and even have lots of pets and still be uncomfortable with the idea of sharing your house with an animal that does not belong there. In fact, many of our customers describe themselves as animal lovers, but they understandably draw the line when they discover they have an uninvited guest. If you find that you are now sharing your home with a wild animal, Minnesota Wild Animal Management is the company to call. Offering 24/7 wild animal removal services.
Safe and Quick Removal of Wild Animals From Your Home
We can remove any animal who invades your home, but the majority of the animals who try to make a home in your house are bats, deer mice, chipmunks, and squirrels. Birds that find a place to build a nest may discover they have deeper access to your home and then have a hard time getting out. And, on occasion, we are called to remove a snake from living spaces. Some animals, such as the raccoon, are more opportunistic, in that they will exploit an opening and move in with the intent of raising their babies. The good thing about circumstances involving raccoons moving in with you is that they tend to make themselves known. Raccoons are playful and when they move into an attic, they tend to bounce around and make some noise.
Wild Animals Carry Disease
What all these animals have in common is that none of them mean you any harm. They do not have the same concept of possession as we do, so when they see a place that they can use to keep themselves warm at night and safe from predators, they take it. Despite their intentions, however, there is still the possibility of their carrying diseases, which is why it is important to contact a professional service like ours, who can safely and completely remove the animals. Even if most of the species that would move into your home do not intend to do you or your family any harm, encounters of an up-close nature are unpredictable. So, you should eliminate the possibility of coming into contact with the animals that are in your house. We understand that these animals may show up overnight, on weekends or even over a holiday. So, we are available 24 hours a day, 7 days a week and 365 days a year.
Wild Animal Removal Specialists in Minnesota
Our company is open for business and we are committed to serving you safely. Our technicians observe all of the guidelines provided for minimal exposure, so when we have to enter your home, you can feel assured that we will do so with everyone's health and safety in mind.
For 24/7 Emergency Service, call us at (612) 237–8282 or call one of our non-emergency numbers (612) 237-8282, (763) 785-1414, (952) 881-6662 or (651) 260-7378 and we will be happy to help you.