Chipmunk Prevention Services MN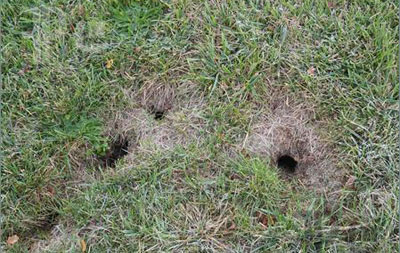 After watching the movie, Alvin & the Chipmunks, falling in love with the cuteness of chipmunks is pretty easy. These rodents may be cute to look at, but they aren't animals that you want hanging out close to your home. Chipmunks tend to hangout in large groups, so if you've seen one, then there are probably plenty more nearby. The issue with chipmunks is that they are always in search of their next bite to eat. If you're not careful, that next bite could be the electrical insulation of your home. Lucky for you, our expert team at Minnesota Wild Animal Management, Inc., specializes in chipmunk prevention so that you will not have to worry about chipmunks trying to eat or burrow around your home any longer.
The Importance of Chipmunk Prevention
If chipmunks are hanging around your home, these rodents can end up causing significant damage to not only your gardens, plants and shrubs, but also your home as well. Chipmunks love to burrow and if given the chance, they'll even try to burrow under your patio, stairs, retention walls, garage aprons and even your home's foundation. If given access, they can easily tap into chewing or eating the electrical cords in and around your home. Chipmunks are often looking for their next spot to build their nests, so if they're able to burrow around your home, their next nest may be built in your walls. The thought of these types of things occurring can definitely add stress as a homeowner. The risk of damage that chipmunks can cause is exactly why chipmunk prevention is so important. At Minnesota Wild Animal Management, Inc., we let our top notch prevention processes do the speaking for our staff. Through our prevention measures that our staff puts in place around your property, you will no longer have to worry about chipmunks causing damage to your home.
Chipmunk Prevention Professionals
At Minnesota Wild Animal Management, Inc., our prevention services apply to more than just the common entryways of your home. Chipmunks aren't very big, so they're able to burrow and get into the smallest of spaces. For that reason, our prevention professionals with more than 35 years of combined experience provide prevention around every angle of your home. Through our 17 point inspection sheet, we inspect every bit of your home to make sure that these rodents will not have access to your home, no matter where they try and enter.
Contact Minnesota Wild Animal Management Now
These rodents can cause significant damage to your home, so don't let them hang around your property any longer. The first step to protecting your home for the future, is to pick up the phone and call our chipmunk removal & prevention team at Minnesota Wild Animal Management, Inc., today. Our experienced chipmunk prevention crew can be reached at (612) 237-8282.