Wildlife Management Experts Minnesota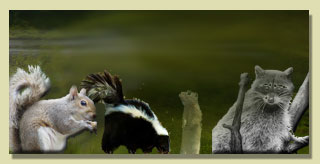 Depending on where you live in Minnesota, you may rarely encounter wild animals or for others it may be an everyday thing. Unless you are Noah, you probably do not want to be sharing your living space with these animals regardless of where you live! At Minnesota Wild Animal Management Inc. we understand you value your space and want to live in a clean environment, which is why we make it our priority to humanely remove wild animals from your home.
Minnesota Wild Animal Management
In peoples busy lives today, the last thing they expect to deal with, let alone have to deal with, is wild animals invading their space. Whether destroying and nesting in your walls or attics, or just being loud and obnoxious, you realize the animals need to go, now. Calling Minnesota Wild Animal Management Inc. means quick, flexible, affordable and easy to work with service. The service you need for today's busy life. More than just our service you get our two year service warranty.
Twin Cities 24 Hour Emergency Wild Animal Removal
Sometimes cases need immediate attention. If an unwanted visitor shows up in the middle of the night or weekend, being destructive, or dangerous, emergency calls are the right thing to do. You need immediate service, please call 763-232-7296.