Wild Animal Removal Process Minnesota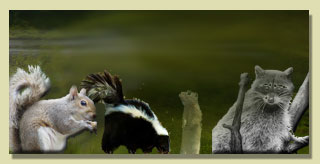 At Minnesota Wild Animal Management Inc. we are flexible to work with and guarantee your problem will be handled immediately, no long waiting periods. To put an end to your pest problem today follow our easy 5-step process!
Our Process
Give us a call! You can call us at any of our four convenient numbers, and we will work out a flexible time to meet. If you need immediate attention, call our 24-hour number.
Inspection! One of our highly trained team members will come out and inspect your home or business. We will identify the animals that are a problem, determine where they are nesting, and work out effective treatments to eliminate the animals and prevent the problem from reoccurring. We will give you an affordable quote with no hidden charges.
Removal! After the inspection is complete, our team member will begin taking proper steps to removing the animals.
Repair! Once the animals have been removed, we can start repairing the damage they may have done to your house. We will work with you, getting the projects done in a timely manner, and effectively repairing any damage to structures, foundations, walls, vents, attics, roofs, or elsewhere.
Preventative Measures! We go past just removing the animals, and repairing the damage they may have done. We guarantee to prevent these pests from invading your house or business again at any repaired entry site. To prove we mean what we say, we back all of our services with a two year warranty, the strongest in the pest control industry.