Squirrel Prevention Services MN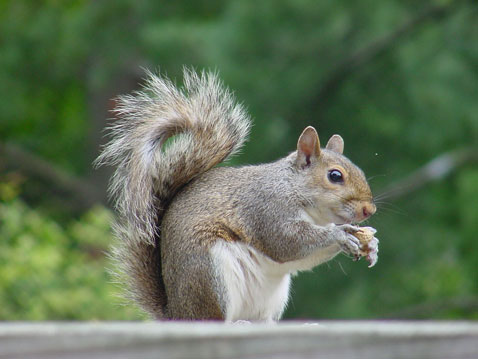 Squirrels are some of the most commonly seen animals in neighborhoods across the country. While they can be fun to watch, their strong teeth can definitely do some damage to your home. These hungry animals not only try and get into your bird feeders for a snack, but they can also chew on a lot of other things around your property such as wood, pipes, wiring, ducts, etc. At Minnesota Wild Animal Management, Inc., we have just the prevention services that your property needs when it comes to keeping squirrels away from your home.
Squirrel Nest Prevention
Another reason why squirrels may try to enter into your home and make it their own is to nest. Often times, our staff at Minnesota Wild Animal Management, Inc., finds squirrels nesting in the attic of homes across the area. Individuals hear tiny footsteps in their attic and quickly pick up the phone to call our staff for help. To make sure that your home isn't next on the squirrel's list of houses to try and nest in, let our prevention team take the necessary steps to keep these squirrels out of your attic or any other part of your home.
Squirrel Prevention Warranty
With any purchase or home improvement project that you commit to, you should be confident in what you are paying for. To help give you that confidence, all of our squirrel prevention services are backed and guaranteed by a two year warranty. Not many animal removal providers in the area offer a warranty of any kind. The peace of mind that our squirrel prevention warranty provides our clients simply can't be beat.
Minnesota Wild Animal Management Squirrel Prevention
So, if you feel like it may be time to invest in squirrel removal & prevention services that will keep your home safe from squirrel damage or nesting, make sure you choose the right prevention team to help. At Minnesota Wild Animal Management, Inc., we truly believe that there is no better partner for you than our experienced and affordable prevention team. To top it off, our warranty makes this decision even simpler. To learn more about our proven squirrel prevention services, give our crew a call today at (612) 237-8282. All you need to do is make the call in to our prevention specialists, and we'll handle the rest!