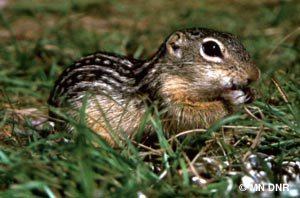 If you had to choose one wild animal to invade your home and do damage, you might actually choose the chipmunk. They are adorable, cute, and seem harmless enough. However, in reality, chipmunks may be adorable and cute, but they are not harmless. Chipmunks can do serious damage to your home, and Minnesota Wild Animal Management Inc. has the knowledge and expertise to provide you with Andover Chipmunk Removal Services in MN.
Chipmunk Removal and Damage Repair in MN
When chipmunks find their way onto your property, the first evidence you may see could be something as simple as a hole burrowed between two rocks on your sidewalk. If you see one chipmunk entering or exiting that hole, it probably means that there are others in the area. Sometimes that means many other chipmunks are using that small hole to do damage under the area where the hole is located. The damage a group of chipmunks can do to external parts of your home is extensive. They may be small, but they are strong for their size and are exceptionally good diggers. That means that they can dig under your stone patio, under your sidewalk, and even into the foundation of your house. When the underlying structure of your property is weakened by their burrowing and digging, the structural integrity can be compromised and become vulnerable.
Humane Wild Animal Removal in Andover, MN
The damage to outside areas of your house can be bad. If chipmunks get inside your house, the damage can become a danger to you and your family. It is common for chipmunks to gnaw and chew, and when they do this to the wiring in your home, you could be dealing with a fire hazard. Chipmunks that set up shop in your home may avoid your wiring, but they will almost certainly do extensive damage to insulation, framing structures, and drywall. And if one or more of the chipmunks dies while in a hidden part of your home, you will notice a foul odor but may have difficulty locating the source of the smell.
Minnesota Wild Animal Management Inc. will safely remove all chipmunks from your home, and we will do so humanely. We have the training and experience to locate the entry point(s) and all locations where the chipmunk are living. In addition, our team can repair the damage they leave behind and prevent future problems. If you live in the Andover, MN area, contact us by calling any of the following numbers:
(612) 237-8282 (24/7 Emergency line)
(763) 785-1414
(952) 881-6662
(651) 260-7378