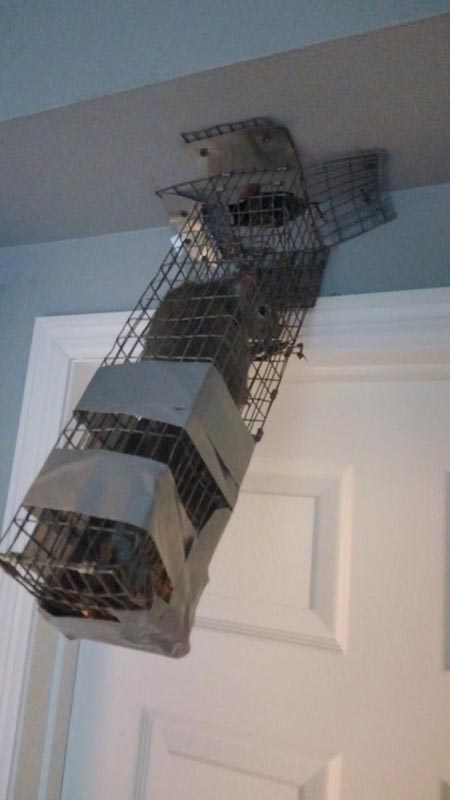 Small wild animals that find their way into your home are certainly unwelcome, but they can also cause significant damage to your home. Squirrels, mice and raccoons look for a safe, warm place to nest and before you know it, you can have a real problem. Squirrels and raccoons can make themselves at home in your attic, chimney or crawlspace, while mice find shelter in your walls and are attracted to the food and water in your kitchen. These wild animals can chew on anything in your home that is not metal and can cut wire, can damage wood structures in your home and leave a trail of destruction behind. Minnesota Wild Animal Management, Inc. specializes in the safe removal of squirrels, raccoons, mice and other critters in Andover, MN. In addition to removing these animals, we can also repair the damage left behind.
Wild Animal Removal and Damage Repair
Raccoons are nocturnal and carry many germs. They can get into your trash, destroy your garden area, and nest in your chimney, attic or underneath a deck area. They can transfer parasites and even rabies to humans so they must be dealt with quickly. Our team can locate raccoons and their nests (even in very tight spaces in your home) so that you can be sure that your raccoon problem is resolved.
Like raccoons, squirrels also like to find ways to nest in our homes. The Andover area has thousands of squirrels, including red squirrels, gray squirrels and flying squirrels. If they decide to nest in your chimney, attic or walls, they may begin to chew on piping, wiring, duct work, or woodwork, causing significant damage. Minnesota Wild Animal Management Inc. can identify and eliminate your squirrel problem quickly and address any and all damage left behind.
No one wants to think about mice in your home. Our team can eliminate any mice currently in your home and can prevent any future mice from entering. Mice can enter through even the tiniest holes and even one can cause a huge problem for you and your family. Mice carry disease and like to feast in your kitchen, so can pose a health threat to humans. Prevention is the best possible way to give you peace of mind and keep your home protected.
Andover Wild Animal Removal Services
Minnesota Wild Animal Management Inc. is an experienced and trusted wild animal removal service that will work closely with you to be sure that we resolve all issues that you are concerned about. We stand behind our work and will remove all pests and repair any damage to your home. For more information or to speak with a member of our team, call our 24 hour wild animal service line at 763-232-7296 or 612-237-8282.