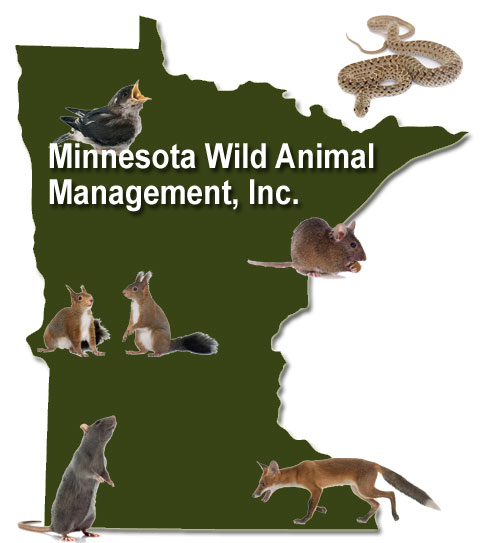 Are you concerned that your home is infested with some type of wild animal? If so, don't fret as the team at Minnesota Wild Animal Management has decades of experience helping Minnesota homeowners with all of their animal removal needs using only the most humane methods. Reach out to us today and we'll be glad to come to your home or business and identify the type of pest that's causing problems and humanely remove it as well as ensure it doesn't have a way to easily come back into your home or place of business.
Our Humane Animal Removal Process
Below is the process we use to ensure any pests are humanely removed from your home, but also that they do not return to cause problems once we've left your property.
Wild animal inspection – Once we're dispatched to a call, we immediately go to work to identify the type of pest that's infiltrated your home or business. This involves identifying the type of animal as well as where they're nesting and coming up with a plan for the most effective and humane removal methods possible.
Quote – Once we've identified the type of animal as well as any damage that's occurred, we'll provide you with an affordable quote complete with no hidden charges.
Animal removal – Once an initial inspection is completed and a quote is agreed upon, we can go to work removing the animal(s) that are causing problems in your home or business.
Repair – Animal removal is only part of the process we use to ensure your problem is taken care of once and for all. After all the wild animals have been humanely removed, we work to repair the damage they have caused to your home. This could include damage to foundations, attics, vents, roofs, or anywhere else around your property.
Preventative animal control measures – Once we've removed the animals and repaired any damage, we still go a step further and guarantee that no pest will enter your home through the same entry point for a period of two years. This warranty is almost unheard of in our industry.
Ready to Bring in the Wild Animal Removal Pros at Minnesota Wild Animal Management?
If your attempts to get rid of pests in your home or office aren't working like you'd hoped, feel free to give our team at Minnesota Wild Animal Management a call today. We can be reached anytime at (763) 785-1414. We'll be happy to come out to your property to provide an inspection to determine what type of problem you're dealing with as well as an actionable plan on how to humanely get rid of any pests and ensure they don't come back for a very long time!