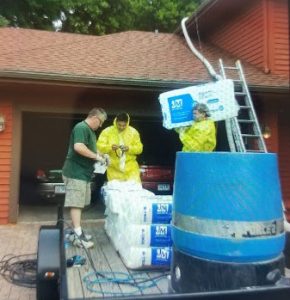 Were you recently welcomed by pests, bats or unwanted animal droppings throughout your attic when you entered your attic? This is the last thing that you want to see in your attic. For some homeowners, there are a lot of valuables stored in an attic. The thought of unwanted pests getting into these items can be rather disturbing. Unfortunately, dealing with these pests or their droppings should only be done by a professional. That's where our team at Minnesota Wild Animal Management, Inc., comes to play. We're here to provide highly effective attic restoration to our Minneapolis, MN community. Our team will seal entrance points, sanitize contaminated areas and blow in new insulation leaving your attic safe from unwanted visitors.
Animal Removal from Attics
Animals are always finding places to live where they are safe, warm and secure. When it comes to an attic, squirrels, mice and bats love to hang out in attics. Since these animals surely aren't potty trained, they not only can cause damage to the items stored in your attic, but they also leave lots of droppings. This is especially dangerous with bats as their droppings can be toxic. So, the minute you notice any of these animals in your attic, pick up the phone and contact our team at Minnesota Wild Animal Management, We'll get these pests out of your attic, will clean up all of the animal droppings and provide necessary prevention measures to keep them away for good.
Professional Attic Sanitation
The animal droppings that you've found in your attic need to be removed quickly. This isn't something that you can bring your vacuum into your attic to clean. Instead, it needs to be handled by professionals that have experience with cleaning and sanitizing animal droppings. At Minnesota Wild Animal Management, Inc., we have the experience, equipment and employee protection to ensure that all of the animal droppings in your attic are removed, the entire attic is sanitized, and no one is harmed during the process. Rather than risking your own health, let our sanitation experts provide this proper attic restoration.
When it comes to attic restoration from pest invasion and unwanted animal droppings, our 'A' rated, 5-time Super Service award winning team at Minnesota Animal Management, is the perfect partner for you. If you are in the Minneapolis, MN area, let our dedicated staff safely remove any unwanted pests from your attic, while also professionally sanitizing and cleaning up animal droppings throughout the entire attic. To learn more about our attic restoration services, give us a call today at (763) 785-1414.