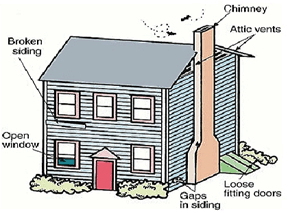 At Minnesota Wild Animal Management, we have been dealing with Minnesota bats for over 35 years. As long as we have been in business, there have been a couple types of bat species finding their way into homes and businesses and making themselves comfortable. Whether they've been there for one week or for several years, bats are not a healthy animal to keep in your home. Not only do they carry and transmit diseases like rabies, they leave hazardous droppings that can be harmful to humans. If you currently have bats in the home or even previously experienced bats in the past, Minnesota Wild Animal Management is here to help. If you are looking for bat dropping clean-up in Minnesota, Minnesota Wild Animal Management should be your first and only call.
What is Bat Guano?
Histoplasmosis. Have you ever heard of that word? That is the fancy name for the disease that is most commonly associated with bat droppings. Bat droppings, or bat guano, as many people refer to it, is toxic to humans. As it sits in your home, it can develop spores from fungus that can then particulate into the air. The toxic spores given off causes a disease called histoplasmosis. This disease can be life threatening to humans, especially those who already have a weakened immune system. If a person inhales the spores that are growing on the bat guano, it's no doubt that their lungs will feel it.
Bat Dropping Clean-Up
Regardless of how the bats got into your home, it's not enough to just get them back out. After your home or business has been compromised by bats, bat dropping clean-up is 100% necessary. At Minnesota Wild Animal Management, we obviously will take care of your bat problem. However, unlike other companies, we won't leave you stranded with a bunch of toxic mess to deal with. Our team of professionals does a thorough inspection and exclusion methods to ensure that your sanitation problem is gone. We will not only remove your bats safely and efficiently, but we will then work to ensure that bat dropping clean-up is prioritized. Utilizing every safety measure and precaution for our professionals and your family, we will restore your home and work to prevent this from ever happening again.
Bat guano is not something to leave lingering for the future. If you see bat guano in or around your home, let our experts at Minnesota Wild Animal Management take care of it for you. For more information about our bat dropping clean-up services, give us a call today. Contact Minnesota Wild Animal Management at (763) 785-1414.