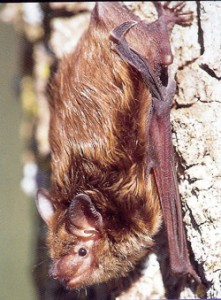 If you are in the Blaine, MN area and in need of bat removal services, Minnesota Wild Animal Management is your quickest and most humane solution. To help educate local residents about bats, interesting facts, bat safety and hazards we have put together some information and advice for you to read; while our professional animal removal technicians promptly arrive to your rescue.
What Are Bats?
Bats are the second largest order of mammals (closely behind rodents), representing about 20% of all classified mammal species worldwide, with about 1,240 bat species (only about 45-48 species living in the United States). Bats are all throughout the world, and they perform vital ecological tasks of pollinating flowers and circulating fruit seeds. Most bat species like to eat bugs and other insect pests, thus reducing the need for harmful chemicals and pesticides.
What Do Bats Look Like?
Bats vary greatly in appearance depending on their size. They are small animals, generally representing small, rounded ears, while other species have long, pointed ears.
The colors of bats greatly vary as well from light to dark brown and even gray, tawny, red, yellow, buff and silver. Their bodies are covered with fur and have wings which are made of leather skin stretched across bones which move like fingers of a hand–giving it the ability to fly.
Where Do Bats Live?
Bats are found in almost every habitat available on Earth. Different species tend to like different habitats during various seasons of the year, ranging from sea sides to mountains and even deserts, but bat habitats always need two specific ingredients: roosts, where they spend the day or hibernate, and places for foraging. Bat roosts can be located in hollows, crevices, foliage, and even human-made structures, and include "tents" which the bats create out of leaves.
When Are Bats The Most Active?
Most species of bats are extremely active during the months of August and September. This is because their juvenile pups are now able to fly and the insect population is at its peak, thus creating lots of meals for the young ones.
Why Bats Pose a Threat?
Although bats have many beneficial qualities, they also pose a threat to human health in certain situations. Histoplasmosis is a disease tied to bat guano and bird droppings. When droppings consistently grow for years, a fungus can expand and produce spores that may cause histoplasmosis when inhaled. Where bat or bird droppings are constantly piling up, in an attic for example, care should be taken to avoid getting this disease.
Bats can also contract rabies– a viral disease causing encephalitis (brain inflammation) in humans and animals if bitten.
What Could Happen If I Try To Remove The Bats Myself?
Not only does the bat removal process include the removal of bats, but it also includes the removal and sanitation of their guano droppings and their nests. Bats can sense when you are upset and will become agitated when humans approach, so never try to lure bats out of your home without professional help.
Minnesota Wild Animal Management Inc.:Pest Control Professionals
If you ever have any doubt about pest or animal removal, do not hesitate to call to speak to one of our professionals. There are a lot of steps to take in order for the pests to be completely evicted from your home, so it is important to seek professional help.
If you have any questions about our pest control services, call Minnesota Wild Animal Management Inc. Today at 612-237-8282!