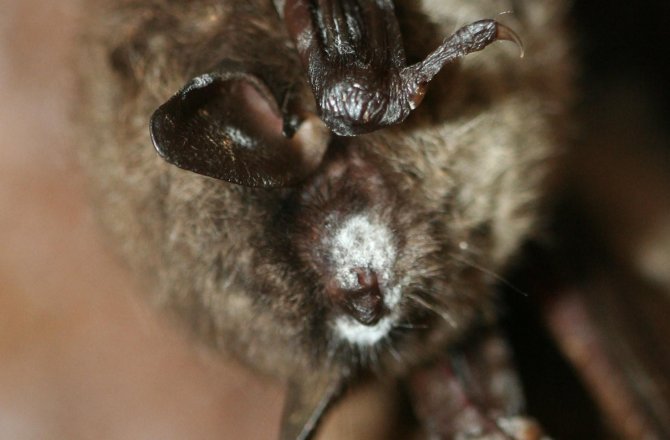 As fall approaches, we begin to think about cooler temperatures, autumn leaves, pumpkin patches, fresh baked goods and spooky images of witches, ghouls and even bats.  Bats are a traditional image of Halloween fun and fall, but when they invade your home or property, they become a true nuisance.  Bats are the only mammals that can fly and help our ecosystem by eating many insects, keeping bug populations in check.  There are 40 species of bats in the US and 7 species in Minnesota alone.  Only two species of bats will live in dwellings — the little brown Myotis and the large brown bat.  If you suspect that bats have invaded your home, get rid of them quickly before you have any more problems. Minnesota Wild Animal Management Inc. serves Woodbury MN and can safely and humanely rid your home or property of bats quickly, while preventing them from returning.
Dangers Of Bats Living On Your Property
In addition to being a bit spooky, bats can carry and transmit diseases, including rabies, and they pose danger to your family and your pets.  Bat droppings (bat guano) are also unsanitary and can also transmit histoplasmosis, a disease that can be serious.  Bats generally enter a dwelling looking for a place to nest or sleep.  They most often enter through open areas of your home's siding, roofline, chimney, vents, and fascia. If you have seen a bat anywhere in your home, hear squeaking noises, scratching at dusk or dawn when they enter or leave, or you find bat droppings on walls or window sills, you may have a bat problem.
Bat Removal And Animal Damage Repair for Woodbury, MN
Bat removal should always be taken care of by a professional.  The expert team at Minnesota Wildlife Management Inc. specializes in bat removal as well completing any necessary animal damage repair so that your home is left in good condition and future problems are prevented.  Our team is trained and has the proper protective gear to remove all bats on your property safely so that you can be sure that none are left behind.  We completely inspect your home to ensure that other bats (or bat remains) are not left in your walls or attic area.
So, if you think that you might have a bat problem, it is always wise to get it checked out as soon as possible to minimize the damage.  Call the team at Minnesota Wild Animal Management who can take care of both the safe removal of the creatures as well as any pest damage repair left behind.  Call us 612-237-8282 anytime, day or night!