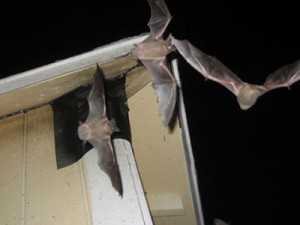 Bats are animals that you don't want hanging around your house, literally! With seven species of bats in Minneapolis, MN, this area is affected by bats just like many other regions of the country. The two most common bats that you will find in this area dwelling in homes are the little brown Myelitis and the large brown bat. These animals are very interesting to learn about, but are not ones that you want to come into contact with first hand. If you have noticed bats hanging around your Minneapolis home, it is important to contact a professional bat removal company. The great news is that our humane bat removal team at Minnesota Wild Animal Management, Inc., is right around the corner and we are excited to help you with these unwanted animals.
Reasons to Avoid Bats
Bats are often found in areas such as attics, garages, siding, roofs, soffit, fascia, chimneys and vents. These animals can get through small cracks as little as ⅜ of an inch. The number one reason to avoid contact with bats is that they often carry diseases. The most common disease that they carry is rabies. Being bitten by a bat with rabies is the last thing that you want to happen to you, a family member or even a pet. Another issue with bats is the fecal matter that they leave behind. Individuals can develop a disease known as Histoplasmosis by coming into direct contact with bat feces.
Bye, Bye Bats
The bat removal process can be a dangerous one if you don't know what you are doing. Thanks to more than 35 years of wildlife control, our dedicated bat removal team knows exactly how to handle bats from start to finish. By choosing to work with our team, every step of the removal process will be calculated to ensure that not only we are safe as humans, but also that the bats are safe as well. Our goal is to remove these unwanted animals from your home and let them go back into their natural habitat. Once our removal process is over, we then work on providing you with preventative measures to ensure that they do not return in the future.
If you have noticed bats hanging around your house, don't put this removal project off any longer. As a Minneapolis, MN bat removal company, our expert removal team at Minnesota Wild Animal Management, Inc., is eager to help you remove these bats in a timely manner. To learn more about our humane bat removal services, give us a call today at (612) 237-8282.