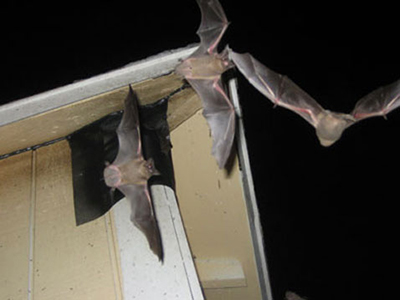 Isn't it always a little creepy that bats show up in your attic so close to Halloween? Contrary to how it may seem, bats could have been living there all along. The only difference is that people tend to notice them more in the late fall season because they are venturing up to their attic more often. As the cold sets in, bats are also trying to find places where they too can stay warm! So if you notice any suspicious bat activity around your home, it's best to call the experts at Minnesota Wild Animal Management Inc. Serving all of Minneapolis, MN, we can get these animals out of your home and back into the wild where they belong.
Why You Should Never Go Batting for Bats
Having bats in your home can be a real nuisance. We have heard the saying before, "they are like rats with wings." Ha! If you mean that not only do they spread famine and disease with the things they touch but also through the feces they leave everywhere, then yes, bats are a little like rats. When you notice a bat in your home, your first instinct may be to kill it. This is just not a good idea. The most common disease that bats carry is rabies. If you are bitten or touched by a diseased bat, get ready for several trips to the Emergency Room and several shots of the immunoglobulin and vaccine. Leave the bat alone and pick up the phone to call us! It is so important that proper inspection techniques and execution methods are utilized. Otherwise, some bats can end up enclosed in your walls, eaves, and attics, making your Minneapolis house a hazardous, and unsanitary residence.
Bat Removal Experts
Choosing Minnesota Wild Animal Management Inc. is the best choice when you discover bats in your home. Why? Because we know our bats! There are seven species of bats in Minnesota and only two of those species live in dwellings like your attic. They can fit through the tiniest of cracks or holes, as little as ⅜ inch. Our professionals are experienced at removing the bats in a safe and timely manner. We can repair those places that bats are getting in and prevent them from coming back for good!
So if you have a bat problem in Minneapolis, MN, it's important to call Minnesota Wild Animal Management Inc. today! Act fast because before you know it, spring will be here and nesting season will approach. During this time, no bats will be able to be removed! So call us today at (612) 237-8282.