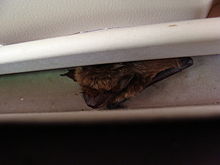 Bats are extremely interesting and intriguing creatures, however, they are not generally recognized as welcomed house guests.  They can enter your home or property through small holes in your siding or where your roof meets your home, your chimney or through vents.  Generally, bats are seeking a dark place to nest and sleep, but carry disease and can cause damage to your home.  If you live in the Minneapolis, MN area and suspect that you may have bats entering your home or property, contact the bat removal experts at Minnesota Wild Animal Management Inc.  Our team can safely and thoroughly handle bat removal so that you can rest easy knowing that your home is bat free.
Bat Removal Experts
Bats can fit through even the smallest cracks to get inside your home and they carry diseases like rabies and Histoplasmosis, that can be dangerous for humans.  Some signs that you may have bats in your home, attic or crawlspace include:
You see bats (especially during dusk) flying around a specific area of your home repeatedly.
You hear scratching or squeaking in your walls or in your attic. Bats are generally very quiet creatures but you may hear them when a particular door or window closes or around sunset when they become more active.
You see bat droppings on window sills or on your walls. If they have nested, bats will enter your home from the same place each evening and leave droppings just below where they are entering. Their droppings are also called guano and this waste can carry disease.
Bat Extermination MN
In addition to bat removal, the bat extermination specialists at Minnesota Wild Animal Management Inc. can also perform bat droppings cleanup so that your home is clean and bat free upon completion of their work.  The two most common types of bats found in dwellings are Little brown Myotis and the large brown bat.  Bat removal should always be handled by a professional and only appropriate bat removal techniques should be used.  If this is not completed properly, you could have a real safety hazard on your hands.  Once all bats have been removed from your property, our team can repair any damage done to your home or property and put prevention methods in place to keep the bats from returning.
Your home is your refuge and you do not want to share it with bats or any other wild animals.  Call Minnesota Wild Animal Management Inc. at 612-237-8282 anytime day or night to rid your home of all types of critters or wild animals.