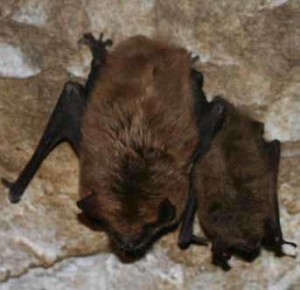 Did you just put the holiday decorations back in the attic and notice some bats sleeping in the nook of your attic? Maybe you've noticed some droppings in your chimney where bats are nesting? If you have noticed bats invading your home, it is important to address this as quickly as possible. For a job that should be handled by professionals, look no further than Minnesota Wild Animal Management Inc.! Partner with our local team of removal professionals that have accrued thirty five years of combined experience serving the St. Paul, MN area.
Important Reasons for Bat Removal
Risk of Disease – Bats are commonly known to carry and transmit disease. Common diseases they carry include rabies and histoplasmosis. Being bitten by one of these animals is a sure trip to the hospital, another reason why letting the professionals handle this is vital.
Droppings – The droppings left by bats can be toxic to humans. Over time, if a bat nests in your home, the amount of feces left by these animals can become a big problem.
Our Humane Bat Removal Process
If you find yourself in need of bat removal, follow these easy steps:
Make a call – For immediate attention, call our 24 hour number. Otherwise, call any of our four numbers and we will set up a time to meet with you.
Inspect – An experienced staff member will arrive at your home and thoroughly inspect every nook and cranny to ensure that all bats are identified. At that point we will provide you with a very competitive quote on the services needed.
Remove – Our team will properly remove the bats from your home including any of the feces left behind.
Repair – Your one stop shop! If there are any repairs needed because of the bats, we can start the process of fixing the issues for you as well.
Prevention – Removing the bats is not the only step to take. These animals will come right back if you do not take preventative measures. We have so much confidence that the animals will not come back due to our preventative measures that we provide a two year warranty on our services. This is a warranty that can not be matched in the industry!
If you are in the St. Paul, MN region, and have found some unwanted bats in your home, call Minnesota Wild Animal Management Inc. today at (617) 237-8282.