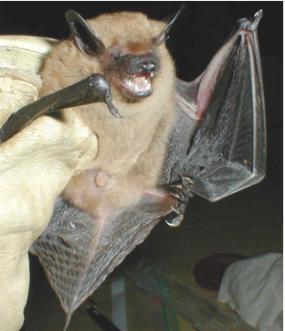 Do you feel like you're in an episode of Batman based on all of the bats you have in your home? While the movie may be entertaining, dealing with the loud noises and problems that bats can cause in your home is not much fun. While there are only two species of bats that are known to live in the homes of Woodbury residents, dealing with the aftermath of a bat infestation is not easy. If you've had it with your bat problem, give the wildlife removal experts at Minnesota Wild Animal Management, Inc. a call today to schedule a free estimate to discuss your needs. As a leader provider of bat removal services to residents all over Minnesota, we have the expertise to handle a bat removal job of any size.
Types of Bats found in Woodbury
While there have been reports of up to seven species of bats living in Minnesota, only 2 actually live in houses or buildings. These two species are the large brown bat and the little brown Myotis. If you've noticed evidence of bats in your home it's time to call in a Woodbury wild animal control company to handle the mess caused by these dirty animals.
Bats Don't Make Great Roommates
When bats make their way into your home they're usually looking for a place to sleep or nest. They like to nest in siding, along the roof line or your house, soffit and fascia, roof overhangs, chimneys and vents.   Bats have been known to fit through small cracks as small as 3/8 of an inch, which can make it difficult to protect your home from these pesky critters.
The real danger from bats comes from the diseases that they can carry. Bats can carry rabies and also a disease called Histoplasmois. It's important not to handle any area that has been contaminated by bat excrement or guano. These diseases can exist in the bat guano and have been known to even become airborne in certain circumstances. For this reason if you think you're home is infested with bats, it's important to call a wildlife removal company immediately.
Reach out to Minnesota Wild Animal Management Inc. Today
At Minnesota Wild Animal Management Inc., we've been providing bat removal services to residents in the Twin Cities area for well over a decade. If you're concerned that bats may have infiltrated your home, don't hesitate to call us 24/7 at 612-237-8282 and we'll be glad to come out to give you an estimate.