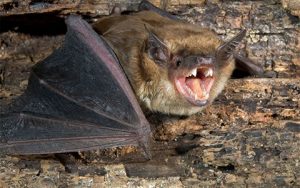 As the cooler weather moves out and warmer air takes its place, we begin to notice an increase in phone calls due to bats. Bats, while present all year long in Minneapolis and St. Paul, MN, tend to be more active in warmer weather. While there are 7 different species of bats in the Minneapolis/St. Paul, MN area, only two of them like to make their way into our living spaces. If you have noticed an increase in bat activity around you, don't wait until they multiply. Give Minnesota Wild Animal Management, Inc. a call today.
Bats Invading your St. Paul/Minneapolis, MN Home
It's no secret that bats get active in warm weather. As they are looking for a new place to call home, the open areas of your exterior siding can be super appealing. This includes roof overlaps, chimneys, and even vents. Bats are extremely agile and can fit through cracks as tiny as ⅜ of an inch. This makes them hard to find and even harder to remove. When a bat finds a home within your home, problems can begin to occur. Bats carry and transmit deadly diseases. The most known and popular disease happens to be rabies. If you have been in contact with a bat, you must head to a local professional for rabies treatment. Additionally, bats create feces also known as guano. Guano can create deadly spores that can infect humans and make us sick. Bats are not pests that you should ever ignore when they have made their way into your home.
Professional Bat Removal Services
At Minnesota Wild Animal Management, Inc., we specialize in bat removal. We understand that bats are more active in warm weather. and we are ready to help. Due to the small spaces that bats crawl into, proper techniques must be utilized in order to prevent bats from dying within your walls, eves and attics. If you are suspecting a bat problem, just give us a call. We will come out to your home and perform a thorough inspection, checking for areas of vulnerability and finding their nest areas. We will employ proper techniques and exclusion methods in order to safely, humanely, and quickly get rid of your bats.
For more information about our bat services, give Minnesota Wild Animal Management, Inc. a call today. For bat activity in Minneapolis/St. Paul, MN, give us a call today at (763) 785-1414.