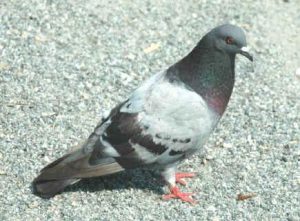 One would think that there would be no birds left in Minnesota during the winter months, as it is assumed that all birds fly south for the winter. This puts all birds in California, Texas, and sunny Miami, right?!? No. There are several species of birds that fly into Minnesota (from further north) as the food sources are much more prevalent in the winter months. Some birds don't migrate and simply remain put. In fact, there are about 15 common species of birds that are found around central Minnesota during the winter months. What do you do if one of these birds enters your home or business mistakenly? Following are a few things you can do right away:
Turn off ceiling fans: Birds often try to escape by flying up towards the ceiling and many die upon encountering fan blades. The first thing you should do is ensure that all fans in the home or business are turned off completely.
Remove pets: If you have cats and dogs, get them out of the area. Put them in a closed room or outside. This way, they don't stress or attack the bird.
Turn off hot appliances: If the bird is in the kitchen, switch off the stove, hood vent, and any heat-generating appliances that may harm the bird should it collide with the appliance. Cover all pots, pans and kettles that have hot food or liquids in them.
Open doors and windows: Open all the doors and windows to enable the bird's escape. Close all doors to other rooms to stop the bird from becoming more confused and flying deeper into the house.
Trying to capture the bird: Do not use loud noises, sticks or hard objects to chase the bird out. Use your hands to gently wave, push, pick up or otherwise direct the bird towards an open door or window. A soft net, such as a swimming pool or butterfly net, may be used to catch the bird and get them outside – just be careful and gentle when releasing the bird. If the bird appears stunned or injured, throw a light towel over the bird, and gently pick it up. Inspect the bird for injuries. Injured birds should be brought to a vet for treatment. Birds that are merely stunned can be kept in a shoe box until they recover and are ready to be taken outside and released. Be on the lookout for dogs and cats that may be waiting to pounce on a dazed bird.
Calling Professionals To Humanely Remove The Bird
If you cannot capture the bird or otherwise get the bird outside, it may be time to call in the professionals. Perhaps you don't have the tools available. Perhaps you're afraid of hurting the bird, or maybe you're afraid of the bird itself. The professionals at Minnesota Animal Management are standing by, ready to help! Call (612) 237-8282 for immediate service.