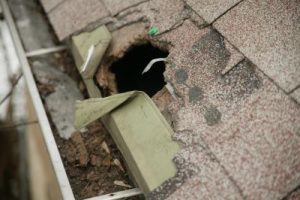 Wild animals of any size or species should never be welcome in one's home, regardless of its size. While each species poses its own risks, wildlife damage such as fleas and ticks, disease transmission and contamination are all potential dangers that homeowners must contend with. Minnesota Wild Animal Management can safeguard your home against wildlife intrusion. Not only do we eliminate the pests, but our team will also secure all entry points, clean up any mess left behind, remediate, and repair any damages and deodorize the area for you.
Repair damaged Area's And Seal Entry Points
Animal infestations can cause serious structural damage to your house. The home should be checked immediately upon being spotted for chewed wires or gnawed beams/rafters, contaminated AC ducts, urine markings, nests and entry holes in walls as well as roof entry points, gutter damage, chimney damage and attic entryways.
Animal Decontamination Services
Once entry points and nesting places have been eliminated, the area must be thoroughly cleaned out. Rodents such as rats, mice and raccoons can spread diseases to you, your family members, and even furry friends.
Crawl space and basement must be thoroughly cleaned of any animals that have entered them. After an infestation, your crawl space will be thoroughly sanitized and made safe again; don't risk going into a filthy, unsafe basement!
Attic Insulation Replacement/Repair
Your insulation may become the perfect breeding ground for pests and should be replaced if it becomes damaged. The damage caused by nuisance wildlife living in your attic can be extensive; but professional restoration is possible; they'll take out any contaminated insulation and replace it with fresh.
A foul odor may indicate you have an infestation. Either living organisms or dead animal odors can pose risks to your family's health, so it is essential to eliminate the odor and disinfect the area for your family's sake.
Wild animals invading your space is the last thing busy people want to deal with. Unfortunately, wild animals must be removed quickly if they're destroying walls and attics or being disruptive. Minnesota Wild Animal Management offers prompt, flexible solutions at reasonable costs that you'll love working with – the service you need for a busy life. In addition, our technicians have years of experience in MN home building; plus, we back our work up with a two-year warranty for added peace of mind. Contact us at (763) 223-62996 now for immediate assistance!