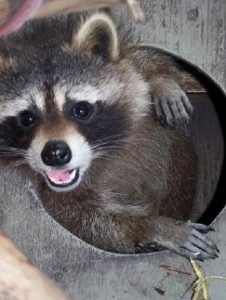 Owning a home can be a great joy – but also a great burden at times. One thing that many people cite as the stress of owning a home is the unexpected maintenance and repairs. It can seem like there is an endless list of home improvement projects that need to be done. Repairs and home improvement projects can be done at your own pace, but what happens when you suspect that there is a wild animal that has taken refuge in a part of your home? There is no way to plan for this type of stress. It may concern you on many levels. Wild animals can cause damage to the area that they live in, they can spread disease and they are certainly not clean and may leave droppings and waste behind.
24/7 Wild Animal Removal Services
A wild animal in home requires an immediate response. You should reach out to a professional wildlife removal company as soon as you suspect a problem. Minnesota Wild Animal Management specializes in helping homeowners rid their property of all types of wild animals including birds, snakes, raccoons, squirrels, mice and even bats. We can remove these animals quickly, safely and humanely and will respond to your inquiry 24/7. It is always wise to hire a professional to remove wild animals from your home or property. Close interaction with these animals can result in personal injury–or a big mess without success. Our team has the experience, skills and equipment to remove one or multiple animals as well as any nests and debris and waste left behind. In addition, we can repair any damage that these critters created and make sure that your home is sealed so that they cannot re-enter!
Humane Wild Animal Removal And Home Damage Repair
When you signed your closing documents for your house, there was no direction manual for what to do when a wild animal took up residence in your home. The best thing you can do is call a professional. The team at Minnesota Wild Animal Management is ready to help. We have been open throughout the COVID-19 pandemic and offer contact-free services including estimates and payment. We value your safety as well as the safety of your staff, so we have also implemented additional cleaning and disinfecting protocols to minimize the risk of spreading the virus.
Spend your time on the home improvement projects that you enjoy and let us handle any critters that find their way into your home. Call us at (763) 785-1414 • (612) 237-8282 for humane animal removal and home repair services. Animal Damage Repair & Prevention.