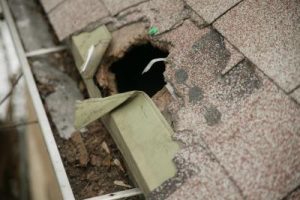 As the weather begins to cool down, it is time to begin preparing your home for winter. Fall is a great time to take necessary steps to prevent pests and critters from finding their way into your house, as they seek a warmer place to live for the winter.  Minnesota Wild Animal Management, Inc. can complete a wild animal inspection of your home this fall, and find any vulnerable areas that animals might penetrate to seek refuge in your house this winter. Preventing these animals from entering your home reduces costly repairs of the damage they can cause and saves you the stress of trying to figure out what kind of animal is living in your home!
Protect Your Home From Wild Animals
One of the most important components of our work is preventing wild animals from ever entering our clients"  homes. At Minnesota Wild Animal Management, Inc. we follow a 17 point inspection checklist. Our thorough inspections cover almost any area where pests or animals may enter your home – areas that you can see as well as areas that you cannot. In a sense we actually animal-proof your home. We find and fix any space that these wild animals can enter. As with all of our services, we also stand behind our work.  This animal-proofing prevention service is backed by a two year warranty on any repair we perform.
Minnesota Wild Animal Management Inc. can prevent animals from entering your home this winter. Some of the most common wild animals that try to reside in homes during winter months are:

Bats
Birds
Chipmunks
Mice
Deer mice
Raccoons
Snakes
Squirrels
If during our inspection, we find evidence that an area of your home has been damaged by a wild animal, we can make the necessary repairs. Sometimes these animals force their way into your home, and as a consequence leave an area of your home vulnerable to other animals. Our team will repair the damage and ensure that it is strong enough to prevent future problems.
Experienced Wild Animal Inspection and Prevention
The team at Wild Animal Management Inc. has extensive experience with wild animals in our area. With a collective 35 years of experience, we realize too that these wild animals are invading our space because we have invaded theirs. So, when possible, we take a humane approach to wild animal removal and focus on making sure that your home is not susceptible to these wild animal infestations.  For more information about our fall wild animal inspection and prevention services, call us today at (763) 785-1414 and for for emergency 24 hour wild animal removal service, call 763-232-7296 or 612-237-8282.