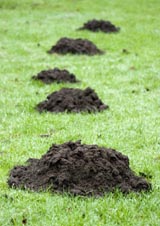 Gophers can do significant damage to your property – causing damage to your lawn, the root system underneath and even causing problems for your vegetation including trees, bushes, and flowers that you have planted.  They create tunnels underneath the ground, eating their weight in plants and roots and ruining your grass and your lawn in the process.  They can also chew on your irrigation and septic system which can impact the irrigation flow and even cause problems for the foundation in your home.  The bottom line is that if you think that you have a problem with gophers on your property, you should consider taking care of it as soon as possible.  Minnesota Wild Animal Management Inc. of Blaine, MN can handle a gopher problem immediately and effectively to minimize property damage.
Immediate Gopher Removal, Blaine MN
Because gophers live underground, it might take some time before you realize that you have a problem. They are very sociable and where there is one, there are often many.  They are about 6-8 inches long and weigh only about ½ of a pound.  They transport food from one area to another in their mouth, which serves as a pouch of sorts.  If you notice small piles of loose dirt that seem to cover holes in your grass or lawn, you should call the team at Minnesota Wild Animal Management Inc. for assistance.
Minnesota Wild Animal Management Inc. has been managing wild animal problems in the Blaine, MN area for more than 35 years.  Our team is very familiar with the pests and wildlife in the area and can treat your area promptly, humanely, and permanently so that you will not have to worry about it in the future.  We can also repair the damage made by the pests so that you can get back to normal life.
Wild Animal Control Experts
Gopher control is an area of specialty for the wildlife specialists at Minnesota Wild Animal Management Inc. and our priority is to help our customers by handling a problem quickly and affordably.  We will quickly assess your problem and develop a plan for humanely removing the gophers or other pests, repairing any lingering damage and completing work that will ensure that the gophers will not return.  For more information about Minnesota Wild Animal Management Inc.'s gopher removal process, call 612-237-8282.  We understand that issues do not always come up during normal business hours, so you can call this number anytime you need us — 24/7!