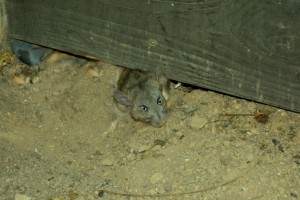 Knock, knock. Who's there? Gopher. Gopher who? Gopher gold! If you live in Blaine, MN and have a gopher problem, the only animal removal company you should "gopher" is Minnesota Wild Animal Management Inc. Serving Blaine, MN and beyond, we are your gold standard removal company that has expert knowledge on gopher removal and prevention services.
Gopher Issues
If you haven't seen the movie Caddyshack then we urge you to stop what you are doing right now and go watch this movie. This hilarious comedy takes place on a golf course and while we enjoy the main story plot, the gopher hunting adventures are where we cry tears of laughter! Want to know what's not funny though? When the same hilarious gopher comes rooting up your yard, digging holes and making tunnels that cause all sorts of damage to your property….Then it's no laughing matter. Now we can laugh about the gopher in Caddyshack wreaking havoc on the golf course because it's just a movie, but when gophers hit your septic system and your yard and home smells like sewage, you're going to develop a true disgust for gophers. After all, they are still rodents. Gophers are notorious for damaging vegetation like trees, bushes, flowers, etc. They also will create tunnels and mounds that can ruin your foundation, your septic system, and then can even gnaw through your irrigation system. All of these repairs are frustrating and costly so when you see a gopher in your yard, you need to call us immediately.
Gopher Removal
So how do you have gopher control in an infested yard? Let the professionals do it! We have many, many years of experience humanely handling gopher removal in both residential and commercial properties in Blaine, MN. One of our highly trained team members will meet with you right away and inspect the problem areas. We will come up with a gopher removal plan and then execute it as efficiently as possible. Once the gopher control problem is taken care of, we will repair the areas that may have caused damage in or around your home. Then, we will take preventative measures so that this problem does not occur again. We offer a 4 year warranty on all of our services, which is the longest in the pest control industry within Blaine, MN. Why do we do it? Because we are confident that we can gain gopher control once and for all.
If you are ready to "gopher" it and get these critters out, call Minnesota Wild Animal Management Inc., today. For gopher removal services in Blaine, MN, call us today at (612) 237-8282.