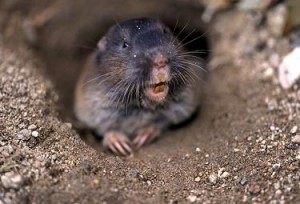 When you have a yard in Minnesota, the time and energy it takes to make it look just right can be more than enough to occupy and even irritate most homeowners. When you add pesky gophers tearing up your property to the mix, yard maintenance becomes positively aggravating. Rather than letting gophers take over, ruining your efforts keep your Minneapolis, Minnesota lawn green and healthy for the spring and summer months, call in Minnesota Wild Animal Management Inc., and our gopher removal experts will help you reclaim your land and get back to gardening in peace.
Although gophers can be quite mild tempered, unfortunately, the effects they have on your yard are anything but mild. With exceptional burrowing skills, gophers can quickly turn a once beautiful lawn into piles of overturned dirt. Your garden full of thriving vegetables? Forget it; gophers like to burrow their way through root systems, destroying virtually plant life with which they come into contact. Not only does this leave your yard torn apart and your vegetables, flowers, bushes, and even small trees completely ruined, burrowing creates small tunnels under the surface of your yard that can leave to dangerous holes. If not properly filled in, you could be dealing with an uneven lawn that could be hazardous to anyone running or walking through it.
Gopher Removal Experts
Beyond the damage to your yard's appearance and safety, gophers can even cause problems in your irrigation and septic systems, potentially costing you huge sums of money for repairs. Don't risk your home and your yard being wrecked by burrowing gophers; instead, call Minnesota Wild Animal Management Inc., and our humane gopher removal experts will have your home gopher-free in no time. Not only will we remove the gophers from your home, but we'll do the best we can to keep them from coming back. Using preventative measures that are proven to work, we'll make sure you can get back to using your back yard without worrying about stepping in a gopher's tunnel.
If you've got a gopher problem, although it may be tempting to handle it yourself, it's unlikely that you'll have the proper traps or training to capture the animal yourself. Because gophers make their homes underground, burrowing little tunnels beneath your yard for protection, they can be extremely difficult to find and nearly impossible to catch unless you know how to find them and make them stay still long enough to be caught. With us, you can be sure that our trained experts have the proper experience to know how to spot a gopher, catch it, and remove it from your property humanely, saving you the hassle and frustration of doing it yourself.
Gopher Removal Professionals
Trust our gopher removal professionals at Minnesota Wild Animal Management Inc. to rid your Minneapolis, Minnesota home of irksome gophers, giving you back your lawn and your peace of mind. Call our 24-hour number, 612-237-8282, for emergencies, or call any of our regular service numbers, 612-237-8282, 763-785-1414, 651-633-8600, or 952-881-6662, to make an appointment.