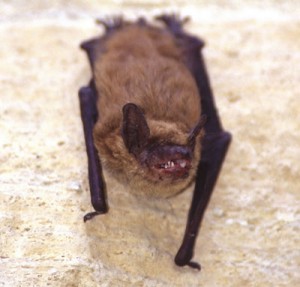 If you are like most people you probably believe that bats belong in caves, wooded areas and horror movies. Bats have no business nesting inside of my attic or any other area of my home. Finding out that a bat or colony of bats are living inside of your home is real cause for concern. Bats are a known health risk because they can transmit Rabies or Histoplasmosis to humans. Finding an affordable pest removal company to get rid of a bat problem is very easy. Minnesota Wild Animal Management, Inc. provides a 5 step process for trapping, removing and preventing bats from returning to an unwanted location. We utilize proven techniques for bat removal and effective methods to combat further intrusion on the property. Our technicians are experts in identifying MN bat species including the two bat species that are known to live inside of dwellings.
Bat Species in Minnesota
There are 7 known species of bat that live and reproduce in Minnesota. Of the seven bat species, only the Little Brown Myotis and the Large Brown Bat like to live inside of dwellings. The other Minnesota bat species are commonly found hanging upside down in caves, mines, hollow trees and outdoor buildings.
Little Brown Myotis – most common in Minnesota, may live inside homes
Large Brown Bat – may nest inside attics and other areas of the home
Northern Long-Eared Bat – found in caves, mines and hollowed out trees
Silver-Haired Bat – found living in caves, mines and trees
Eastern Red Bat – lives outdoors in mines, caves and wooded areas
Hoary Bat – can be seen in hollow trees, caves and mines
Tricolored Bat – not found in homes
Evening Bat – very rare, only one documented in Minnesota
How Do You Get Bats in Your Attic?
The many species of bats found in the area are all very small. Bats can enter a home through a hole as small as 3/8". Entry may happen through a vent, soffit, exterior siding or chimney. The attic is one of the most common areas of the home in which bats like to set up residence.
Proven Techniques for Bat Removal and Prevention
The bat removal and prevention experts at Minnesota Wild Animal Management, Inc. have a 5 step process that utilizes proven techniques to get rid of bats.
Call us to schedule an appointment with one of our bat removal experts
Inspection to locate where bats are living and how they got into your attic
Humane removal techniques when possible
Repair damages caused by unwanted pests
Effective methods to prevent return of the animal
Affordable Wild Animal Removal
When bats have gotten inside of your attic, walls, chimney or interior of your home, place the one call that can rid your home of bats for good. Minnesota Wild Animal Management, Inc. is here to help with fast, effective methods to remove bats from your residence. We are an affordable pest removal company with proven results.
Contact Minnesota Wild Animal Management, Inc. 24/7 at: (612) 237-8282 or during the day at: (763) 785-1414 or (952) 881-6662 or (651) 260-7378