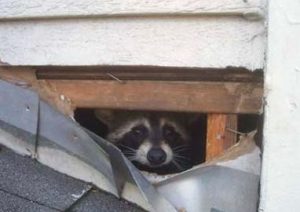 When a wild animal invades your home, they do not come through the front door or an open window. Most often, they find their way inside through an existing crack or hole, or they make their own way inside. Very often, wild animals leave damage at their point of entry but also where they nest or hide. Wild animals can chew through wiring, burrow under your foundation, nest in your walls or your vents, causing costly damage. In addition to removing the critters that have entered your home, the team at Wild Animal Management Inc. will also repair any damage they leave behind. Making quick and careful repairs will prevent future problems down the road.
Wild Animal Removal And Damage Repair
Obviously, the very first step when you become aware that you have a wild animal sharing your home with you is to get rid of it. Our staff will locate and remove all wild animals in your home quickly, safely and humanely. But our job does not stop there. We can also clean and sanitize the affected area and repair any damage that the animals made by entering and/or nesting. If you do not take care of the damage that is done, then animals can get in again and again and the damage will only get worse. Our staff can help you with a wild animal problem from start to finish, so you do not have to hire multiple companies to help you. Our prices are affordable, our communication is clear, and we have the tools, skills and experience to do the job right.
Wild Animal Removal Process In Minnesota
Damage from wild animals can occur on your roof, your siding, in your walls, your attic, your garage or even in your vents and insulation. These wild animals are not trying to cause problems for you but the damage they can leave behind can be serious, difficult to reach and costly. Let us take care of this for you. Our process is simple. You give us a call at one of our four numbers: (763) 785-1414 • (612) 237-8282 • (952) 881-6662 • (651) 260-7378) and we will find a time to come out to your property, inspect the area, remove the wild animals we find, repair any damages and complete preventative measures to ensure you will not have future problems. We also offer 24/7 emergency services, and our regular hours are Monday-Sunday 6am-8pm.