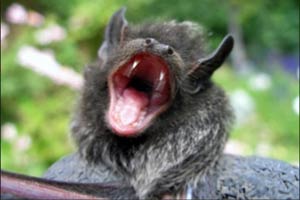 Bats are very interesting creatures. They are nocturnal, they can find food in total darkness, they can live up to three decades and they can fly very fast with speed up to sixty miles an hour. Bats are the only flying mammals, and they eat mostly insects that come out at night. While they are a fun creature to read and learn about, when one comes too close, they can seem a bit scary! In fact, if you have a close encounter with a bat, you should likely see a medical provider because they can carry a wide variety of diseases that can be harmful to humans, including rabies. If you find that you have a bat (or more than one bat) in your home, or your place of work, the team at Minnesota Wild Animal Management can help you manage the situation quickly.
Bats can enter your home through the siding, roofline roof overlaps, chimneys, and even vents of your home or property. They can fit through a hole or crack that is only ⅜ inches and they can hide in areas that are nearly impossible to reach. You may not even realize that you have a special guest for weeks or longer, until you see one flying in/out of your home, or when one finds its way into the living area of your property. Only a professional should handle bat removal. Our staff has the training, the equipment and the expertise necessary to complete a bat removal job quickly and effectively. In addition to finding and removing the bats from your home or business, we will also clean and disinfect the affected area and make any necessary repairs to your home as well.
Signs You May Have A Bat In Your Home
Some signs that you may have bats in your home include unexplained odors, strange scratching noises coming from the attic or your walls, bat droppings (guano) around your home, oily streaks on your walls, or bats seen flying to and from your property. If you have any hunch that a bat is living in your home or business, call our team immediately at one of the following numbers: (763) 785-1414 • (612) 237-8282 • (952) 881-6662 • (651) 260-7378. The longer you wait to address the problem, the bigger the problem can become with more bats, nests and even babies.