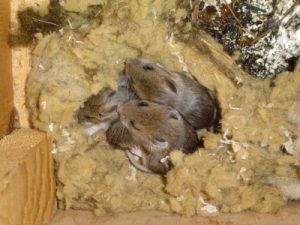 No one wants to think about mice living inside your home or within the walls. It can give you the creeps just thinking about these little creatures scratching around, not to mention if you saw one scurry across the floor in front of you. Yikes!
The reality is that mice within residences are all too common. This time of year, as the weather gets colder, mice are looking for warm places to settle in and make a home for the winter. They want to establish that place sooner than later, because they will begin to store food in that spot, hoarding for the months when the food sources are scarce. So, what do you do if you think you have mice living in your walls, or if you see evidence of one inside your home?
Signs Of Mouse Infestation
When mice begin to take up residence in your home, there will be some telltale signs. Some of the things to look for include:
● Mouse droppings: One of the most common signs, you'll notice spots where a mouse may have left droppings behind.
● Nesting spots: Another common sign is nesting spots. Oftentimes the nest will contain cotton-like material or remnants of chewed items. The nests will appear in corners or inside boxes, etc.
● Chewed products: You'll notice that corners of products in your kitchen pantry or cabinets have been chewed into. You may also notice that the corners of papers are also chewed on.
● Food piles: You may notice small items of food (nuts, seeds, etc.) stored in a small pile in rather inconspicuous places.
What To Do If You See The Signs Of An Infestation
If you are noticing the signs listed above and are fairly certain that you have mice in the home, be very careful in how you proceed. There are traps and other devices that you could employ yourself, but it is best to contact the professionals. Mice often carry disease, most notably hantavirus. If scratched or bitten by a live mouse, you or your pet could potentially catch the disease. On the flip side, if you trap a mouse and are unaware that the mouse has been trapped and killed, you are going to be dealing with a foul odor really quickly!
Preventing Future Mice Infestations
Of course, as the old saying goes, "an ounce of prevention…" Even when the mouse (or mice) are trapped and removed, if you don't get to the source of their entry, you will likely find yourself in the same boat in a short amount of time. You also must consider whether the mouse had babies while in your house. Finding the entry points around your house and getting them sealed off becomes paramount.
Professional Mouse Removal And Prevention Services
The experts at Minnesota Wild Animal Management are trained experts in the trapping, handling, safe and humane removal of small critters and other wildlife. Furthermore, Minnesota Wild Animal Management has professional contractors on staff to help repair any damages caused by these animals to your home or structure. Lastly, our trained experts will help to identify and close off any potential entry spots so that you have the peace of mind knowing that your house is not a wildlife habitat. Available 24/7, call (612) 237-8282 to let our experts rid you of the mice today!