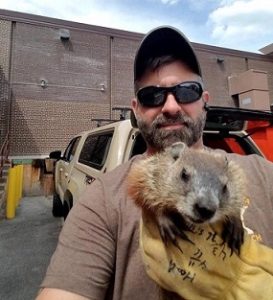 Woodchucks (commonly referred to as groundhogs) are fascinating creatures that contribute greatly to our ecosystem. When they find a home in your garden or yard, their burrowing habits can wreak havoc if left alone for too long. At Minnesota Wild Animal Management, we understand both wildlife conservation and protecting personal space are equally important, which is why we provide humane, yet effective woodchuck removal services aimed at creating balance between humans and wildlife alike.
A humane approach: At the core of our woodchuck removal services lies our dedication to humane practices. We firmly believe that wildlife management should prioritize animal well-being while simultaneously resolving conflicts between wildlife and people. When woodchucks are caught using our live trapping methods, we use non-harmful traps to quickly relocate them away from residential areas so they may thrive within their native environments.
Expertise and experience: Backed by years of wildlife management expertise, our team of professional woodchuck removers possess both knowledge and skill necessary for efficient woodchuck removal. By understanding woodchuck behavior and habits, our professionals know which strategies will provide lasting solutions. Combined with humane practices we ensure a successful solution to your woodchuck issues!
Customized solutions: Each woodchuck removal case is different, and we understand the significance of customizing our approach accordingly. Our team performs a detailed assessment of your property that considers population numbers, burrow locations and possible attractants; from there we create an action plan tailored specifically to you while mitigating negative impacts to both woodchucks and their natural environments.
Prevent and educate: Our approach goes beyond simply clearing woodchucks away; our team offers our clients valuable advice about preventive measures designed to dissuade future infestations of woodchucks on your property. By equipping homeowners with knowledge, our aim is to foster long-term coexistence between humans and woodchucks.
Commitment to environmental stewardship: Minnesota Wild Animal Management is committed to environmental stewardship. We recognize the significance of conserving biodiversity and safeguarding ecosystem balance; thus, our woodchuck removal services prioritize creature welfare while meeting client requirements; all while adhering to all applicable regulations and guidelines which ensure our practices are environmentally responsible and sustainable.
Woodchuck Removal Company
Woodchuck removal doesn't need to involve harming nature's delicate balance – with Minnesota Wild Animal Management's humane and effective woodchuck removal services, we offer reliable protection of property while upholding respect for these fascinating mammals. Trust our professional teams of technicians with your woodchuck issues; they know exactly how best to address these matters while upholding environmental harmony – contact us now and start the road toward peaceful coexistence between wildlife and people!