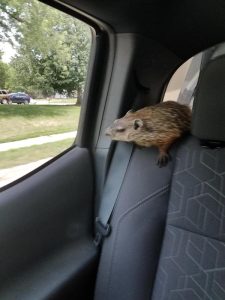 For many of us, having a wild animal in your home is uncomfortable for many reasons. First, they can carry disease, can be unpredictable when cornered and can nest and leave droppings that can cause damage to your property. Another reason that having an unwelcome critter in your home is not desired is because you probably imagine that the only way to safely get them out is to kill them. Even if you know that you do not want to share space with that wild animal(s), you may not want to be responsible for their death.
The professionals at Minnesota Wild Animal Management Inc. can safely and humanely get rid of the animal – so that you can breathe easy knowing that your home is free of unwanted guests and that those "guests" can live out their days in their natural habitat. When you think about it, the only reason wild animals like squirrels, raccoons, birds, bats and snakes find their way into our homes is because there has been so much growth over the last several decades that humans have really invaded their space. So, our team keeps that in mind as we remove these animals from Minnesota homes (and businesses).
Wild Animal Removal And Damage Repair Services
Wild animals are not clean, and they can bring dirt, disease and bacteria into your home. They also leave their waste behind and often create some damage along the way as they enter, exit and build their nests. This damage can cause you problems and also allow other wild animals to gain entry as well. Our team will not only remove the wild animals that have gotten in, but we will also clean and sanitize the affected areas of your home and repair any damage that was caused. We can find animals where they hide and remove them so that they cannot do any further damage.
24/7 Emergency Wild Animal Removal
We also understand that bats, birds, raccoons, snakes and other wild animals do not enter homes during normal business hours. You may have an emergency at night, on the weekends or even on a holiday. We will respond to your needs quickly so that you can get back to your normal routine. Our prices are affordable, our crew is professional and friendly, and we are good at our job. If you think that you have an unwanted visitor sharing your home, give us a call 24/7 at (763) 785-1414.