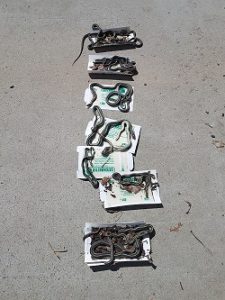 It's hard to imagine a snake slithering around your home…until it happens to you. So naturally, most of the snake phone calls we get are urgent because a snake has somehow managed to make their way in and is not exactly easily finding its way back out. Snakes in Minnesota are not uncommon, however, and thankfully, most snakes in the area are not venomous. In fact, the only venomous snake known to the Minnesota state is the infamous Timber Rattlesnake. So, we can rest in knowing that most of the snakes in our space are not poisonous and typically not aggressive unless put into a stressful, threatening position. If you have a snake in your home or if you are looking for preventative snake measures, Minnesota Wild Animal Management has you covered. Servicing the entire metro area in Minnesota.
As the sun starts to peep over our properties more and more, it's natural to find a snake outdoors sunbathing during the spring and summer. Additionally, we often find snakes in their natural habitats, under rocks or shaded areas. As their habitats become less inhabitable, snakes begin to find their way into our homes. From tiny gaps in the doors, to the most miniscule cracks and holes in our foundation, snakes will find a way. Fortunately, Minnesota Wild Animal Management has methods to prevent this from happening. When you are looking for snake preventative services, we will send someone out to talk to you about your concerns. We will also let you know exactly what to expect from us. We will assess your area with our 17-point inspection sheet, looking over every inch of your home. We will identify susceptible areas and have our team either repair or reinforce those areas, making it impossible for a snake to slither in. Catching any small issues now will help to prevent a larger disaster in the future. We are so confident in our snake prevention services that we offer a two-year warranty on all our preventative measures.
Humane Snake Nest Removal
Should you already find yourself in a precarious snake invading situation, let our professionals help. We will identify the problem, explain our process for removal and then quickly and efficiently take care of the situation in a humane manner. We will then follow up with steps of prevention to ensure that this does not happen to you again.
Customers that use our services can undoubtedly sleep better at night knowing that their homes are snake free. If you are interested in our snake prevention services or think you may have a snake problem in your home, give us a call today. Contact Minnesota Wild Animal Management today at (612) 237-8282 to learn more.