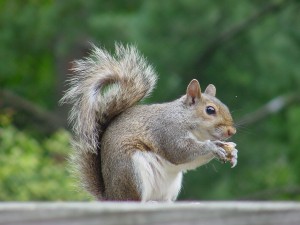 Squirrels are very interesting creatures.  They can are fun to watch scurrying around your lawn, jumping from tree to tree and hoarding and burying nuts for a future meal. Squirrels average 8-20" in length, weigh between ⅓ of a pound to 1.5  pounds and live in the wild an average of 6 years.  They generally nest in trees, however, if they decide to take up residence in your attic, around your chimney or on your roof, and they can damage your siding, insulation, or even electrical wires in or around your home. Squirrels teeth grow for their entire life, so are constantly chewing.  In the wild, they may chew on wood, sticks, nuts and bark. In your home, they can cause serious damage.
Common Squirrel Infestation Signs
Scratching or rustling sounds in your attic or in your walls, especially in the morning or in the evening
Foul smell from squirrel urine and droppings
Lots of squirrel activity in close proximity to your home
Small holes in siding, vents, chewed wires, insulation damage or evidence of a nest.
Humane Wild Animal Removal
If you are concerned that you might have a squirrel problem, it is best to consult a professional wildlife management company as soon as possible to minimize the potential for damage. Minnesota Wild Animal Management Inc. can humanely remove all squirrels from your home and ensure that they are unable to get back in.  We have experience with each of the three species of squirrels that live in Minnesota – red squirrels, gray squirrels and flying squirrels.  Not only will we quickly trap and thoroughly remove all squirrels, we can fully sanitize the area and repair the damage that they leave behind. 
The team at Minnesota Wild Animal Management Inc. has a combined thirty five years of experience in the humane removal of wild animals from the Twin Cities area.  Our crew realizes that these animals are simply searching for shelter and have been pushed in our homes in many cases, because we have invaded their habitats with the extreme housing growth in our area.  So, we use our expertise to remove these creatures safely and humanely whenever possible.
24/7 Emergency Squirrel Removal
If you think you might have squirrels living somewhere in your Blaine, MN residence, contact Minnesota Wild Animal Management Inc. today at 763-785-1414 or our Emergency 24 Hour Wild Animal Service line at 763-232-7296.