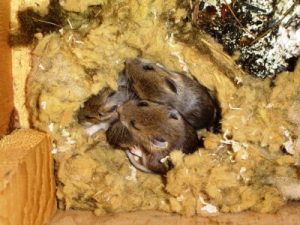 It is getting colder outside and people are not the only mammals that want to stay warm and cozy inside this winter. The months of September, October, November and December are especially brutal for anyone who wants to keep mice and other rodents outside where they belong. A mouse can enter through a tiny space and set up home inside of your home, living in walls, attics and anywhere they can find refuge from the cold winter weather. The results can be very disturbing when you find rodent droppings or hear scratching or chewing sounds coming from inside of the building. Minnesota Wild Animal Management, Inc. provides animal control and prevention services that can keep mice and other animals out this fall and winter.
How Do I Know Rodents Have Gotten Inside?
Rodents including mice, chipmunks, squirrels and rats can be very persistent and sneaky but they are not invisible. They often leave behind evidence in the form of animal feces, foul odors, chewed packaging and nesting materials like paper, insulation or fabric scraps.
Of course the most obvious proof that rodents have gotten inside is the sight of a mouse or other pest running across the floor, climbing curtains or hiding in cupboards. The sounds are another telltale sign of a critter living inside the home or business. Listen for scratching, chewing, gnawing or squeaking. If you notice any signs of rodents, call in the wild animal removal and prevention experts at Minnesota Wild Animal Management, Inc.
Prevent Mice From Getting Inside Your Home
Mice and other animals can cause damage and spread diseases to humans and pets. Dangers can come from mouse droppings and saliva or from fleas, mites and ticks that come in with the pest. The only way to prevent rodent damage to a home or commercial property is by preventing them from getting inside. Here are some tips from the pros at Minnesota Wild Animal Management, Inc.
Close windows and doors to prevent easy access for opportunistic rodents.
Keep woodpiles, debris and garbage away from the structure.
Cover food that is sitting inside or outside of the home.
Inspect siding, roof and foundation for cracks or small holes that can fit a mouse or other rodent.
Cover vents and chimney caps with a fine mesh material.
Schedule an appointment with a mouse prevention team at Minnesota Wild Animal Management, Inc.
Wild Animal Prevention Services
Minnesota Wild Animal Management, Inc. provides wild animal prevention services that rely on tried and true techniques to keep mice and other critters out. Our team of experts can assess the mouse situation at your home or business by carefully checking for access points and eliminating ways that mice can cause problems. Our mice prevention services come with a 4 year warranty!
Call today for a Mice Removal and Prevention Consultation from the experts at Minnesota Wild Animal Management, Inc.
(612) 237-8282 • (763) 785-1414 • (952) 881-6662 • (651) 260-7378