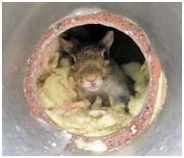 This time of year is notorious for unwanted creatures making their way into your home to hide from the dropping temperatures and cold winds that accompany Maple Grove, MN this time of year. We have a strong love for the wildlife but we feel like that's exactly where they belong, in the wild! For wild animal removal services in Maple Grove, call Minnesota Wild Animal Management Inc.
Wildlife Removal Company Minnesota
Let's be honest, these wild animals are only invading our space because we technically invaded theirs first. The more houses we build and the more forest area we tear down in Maple Grove, the less wildlife habitat these creatures have to live within. So they find shelter in your attic, garage, and even your home because they truly feel like there's no other place to go. So we make it a priority at Minnesota Wild Animal Management Inc. to humanely rid your home of these unwanted animals. We have a combined experience of over 35 years in wildlife animal removal services for Maple Grove. We are very familiar with the wildlife around this area and can successfully remove the common pests that invade your homes and businesses around town.
Our Process for Wild Animal Removal Services Maple Grove
Our technicians are extremely flexible to work with and will find a time that is convenient for you. We offer 24/7 emergency services to anyone needing wild animal removal services in a pinch! So, what is our process?
Ring-a-ling! Just give us a call and we will figure out the best way to prioritize your needs!
One of our expert professionals will come out and inspect the problem within your home. We identify the animal(s), figure out where they are nesting within your home, and inform you of the best way to treat or eliminate the problem. Our affordable quotes have no strings attached and no hidden charges.
Once the quote is agreed upon, we will put an end to your pest problem and take the proper steps to remove the animal(s).
Once we've said goodbye to your pest, we will begin the work in repairing the damage that the animal may have caused. This includes structural damage, foundation damage, walls, vents, attics, roofs, and anywhere else that critter may have gotten to!
Lastly, we want to make sure this doesn't happen to you again. We personally guarantee that these pests won't invade your house again by adding preventative measures to keep this from happening in the future. All of our services are backed with a two year warranty.
If you are looking for a wildlife removal company in Minnesota, please call Minnesota Wild Animal Management Inc. today at (612) 237-8282 and keep your home pest-free! We take pride in serving the Maple Grove community with all of your wildlife removal needs!