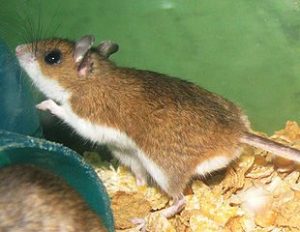 Have you recently gotten up for a midnight snack and found a new neighbor scurrying around your kitchen floor? If so, you've likely spent many hours scrubbing your floors, cleaning out cabinets and doing everything in your power to get rid of mice in your home. The reality is that all that may not be enough. You may still need a mice extermination company like Minnesota Wild Animal Management to get rid of your mice problem once and for all.
Signs You Need a Mice Extermination Company
Below are a few signs that could indicate you have a mice problem in or around your home that needs to be handled by a professional mice extermination company like Minnesota Wild Animal Management.
• Rodent Droppings – If you see small droppings that seem fresh, you may have a mice problem. Fresh droppings are dark and moist, while old droppings dry out and turn a grayish color. Mice droppings are most often found near food sources, in cabinets, under sinks, and along rodent walkways.
• Rodent Tracks – If you notice rodent runways, you likely have a problem that needs to be handled by a professional exterminator. Mice runways are often best seen with a flashlight or blacklight, which can show paw marks and traces of urine.
• Nests – Rodents often use fabric, shredded paper, or even dried plant material to make their nests. If you find these in your home, it's likely you're dealing with a mice infestation.
• Chew Marks – Have you found chew marks on various food packages, even after you thought your mice problem was over? If so, you likely still have mice rummaging through your cabinets.
Stop the Stress and Call a Mice Exterminator
While you may have tried mouse traps, bait, and a whole host of other pest control strategies, it sometimes takes a professional mice exterminator to get rid of your problem completely. Mice can reproduce extremely rapidly so the longer you wait, the worse your problem could become. One female mouse can typically have 5-10 litters each year, of between 3-14 mice. This shows just how quickly the mouse population in your home can catapult! Don't wait any longer, give the mice extermination experts at Minnesota Wild Animal Management a call today at 763-785-1414. We're available 24/7 to handle all your pest control needs and would be more than happy to come out to your home to give you a free, no obligation estimate to lay out a plan to rid your home of all signs of mice.