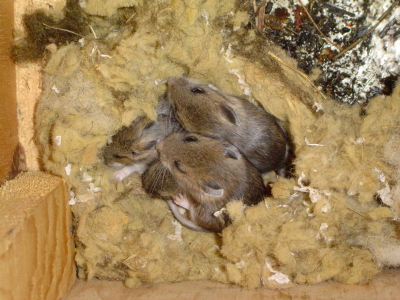 It can be a homeowner's nightmare when they first discover mouse droppings in their attic. Not only are mice a nuisance in the home, they also can carry virus and diseases as well. It is important to take care of your mice, and mice dropping situation as soon as possible to make sure your family doesn't become sick.
How to Mice Enter Attics?
Mice can enter your attic through cracks and holes found in walls, floors and foundations. Homeowners typically do not realize mouse holes until other signs of infestation start to show up. Because of their body shape, mice have the ability to sneak through the smallest holes and cracks, which can make it very difficult to determine where they are coming in from.
Mice can also get into an attic through gaps in windows or the roof, as well as through sewer lines. If drainage pipes are not sealed properly, mice can get into homes through sink or bathtub drains. Mice also seem to find their way inside via entry holes around plumbing and oven gas lines.
When the temperatures are cold, mice move in and find warmer places. After a colony enters an attic, and finds it to be safe, they rarely go outside again. Mice can reproduce at an alarming rate, with populations exceeding well over 200 specimens within just a couple of months.
Mice can carry bacteria, viruses and other diseases, so cleaning efforts following an infestation must be cautiously attempted.
It is very important not to stir up dust particles or rodent feces in affected areas within the attic. Nest materials are not to be touched during this time. Sweeping or vacuuming the mice droppings can lead to the further release of harmful airborne particles.
Call the Rodent Removal Experts!
At Minnesota Wild Animal Management Inc., Our friendly technicians have many years of experience when it comes to dealing with these pests. Not only will we control the animals' population in your home, we will also ensure they will not come back through proper sealing and guarding of entry points.
Call our office today if you are in need of mice and their droppings removed from your attic at 612-237-8282.