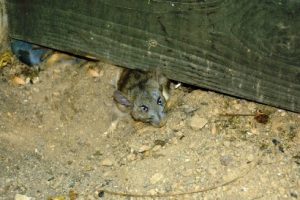 Do you know what kinds of critters may be living in your home? Finding evidence of a single mouse may not send chills down your spine but what if he has a whole family of mice scurrying around in the cabinets, walls, attic or pantry? Setting mousetraps or using poisons can create a dangerous situation for children and pets. The pest control professionals at Minnesota Wild Animal Management, know how to locate a mouse infestation, successfully remove them and prevent mice from getting back inside. Mice are tricky little animals that can cause serious damage and potentially make you sick. To find a mice removal company near me, call one of the local numbers listed on this website…and remember…A female may have 5 to 10 litters of 4 to 8 young per year.
Mice Can Be Dangerous to Humans
Now that evening temperatures are getting chilly, it is prime time for mice to look for ways to get inside your home for shelter. Just a couple of mice can quickly turn into a large colony that infests your property. Mice can multiply at an alarming rate bringing with them the potential for dangerous disease in humans. It is possible for a house mouse to transmit bacteria that causes salmonella, hantavirus or leptospirosis through their urine, feces or saliva. Your pets could also be harmed by the fleas or parasites that mice can carry.
Damages Caused by Mice
Busy little mice colonies work hard at destroying everything in their way. The damages caused by mice can be extensive. Once inside of your home, they often will chew through insulation, paper, cardboard or material in order to build a nest. Chewed electrical wires can result in a house fire. Damage to furniture, air conditioning units, vents and walls are also commonly found during a mice removal investigation.
Efficient Mouse Elimination Techniques
Minnesota Wild Animal Management, Inc. trains their technicians to use highly efficient mouse elimination techniques to get rid of mice. Our methods can be used in homes, office buildings, commercial properties and others structures where mice take up residence indoors. Finding them where they live and breed takes a good understanding of how they think and survive. After eliminating the mice population, we go the extra step to seal off entry points to prevent re-entry.
Pest Control Professionals
Mouse removal may not be glamorous but it is a skill that must be learned by effective pest control professionals. At Minnesota Wild Animal Management, we take pride in our work. Our experienced mice removal specialists work hard to ensure the safety of your family and property. Give us a call at the first sign of a mouse infestation and we will be glad to assist in eliminating the problem ASAP.
Call your local mice removal company at one of the numbers shown here: (612) 237-8282, (763) 785-1414, (952) 881-6662 or (651) 260-7378. *24 Hour Emergency Animal Removal Service: (612) 237-8282