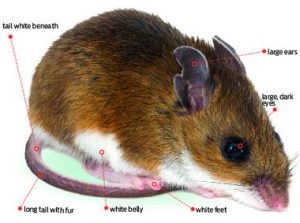 Seeing a mouse in your twin cities home generally sets fear into most adults – they carry dirt and disease, can get in through the smallest crack and love nothing more than to share the food in your kitchen. Mice mean no harm, but they are almost certainly absolutely an unwelcome guest for most homeowners. If you have seen a mouse scurry across the floor, or if you suspect that you may have these houseguests, then it is time to reach out to the team at Minnesota Wild Animal Management for assistance.
Fast And Humane Mice Removal Services
Our staff is experienced in mice removal services. They are often not easy to find, but our crew can quickly locate their entry point and remove them quickly, so that they do not have time to damage your home, nest, reproduce or invade your kitchen. Mice are able to live with very little food and if they get into your attic or garage, they can damage the insulation in your home, chew through wiring (fire hazard) and leave behind diseases that can be harmful to humans. A mice infestation can happen quickly and can be a much bigger job than removing just a few mice before they multiply.
The team at Minnesota Wild Animal Management works hard to remove wild animals and pests in a humane way when possible. In addition to mice removal, we can also repair the damage that they have left behind. We will also find the places they can enter and seal the area so that you can be confident you will not have another mice problem! Our pest control services are comprehensive, and our response time is faster than other local companies. We realize that mice and other critters do not get into your home during normal business hours, so we are available to you 24 hours a day and 7 days a week (including holidays). That means that no matter when you find that mouse in your home, we can help!
Minnesota Mice Removal Services
Our team focuses on doing our job well and treating our customers well. We have earned an A+ rating from the Better Business Bureau, and an "A" rating on Angie's List. We have been in the wild animal management business in Minnesota for more than thirty-five years. If you have questions, concerns or need to schedule a visit, give us a call at one of the following numbers and we will get back to you as soon as possible: (763) 785-1414 • (612) 237-8282 • (952) 881-6662 • (651) 260-7378.