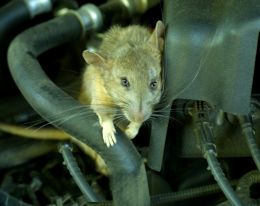 The fall is that time of year where citizens of Shoreview, MN begin to mentally prepare themselves for the brisk winter on the horizon. An important item on the to-do list is proper tuneups on your heaters and generators so that you fix any issues before the frigid temperatures arrive. In the same way that we prepare and try and create a warm home environment for the winter season, so do mice. Instead of preparing their own homes during the fall, mice try their hardest to find the most inconvenient places to survive through the winter, our homes! The minute you notice any mice hanging around your home during the fall season, it is imperative that you request the professional mice removal services from Minnesota Wild Animal Management Inc.
Desperate Times Call for Desperate Measures
Mice have the same mindset as humans when it comes to survival. These pests will do everything possible in order to have shelter and survive the brutal winter temperatures in Minnesota. The unfortunate news is that the homes of many individuals in Shoreview, MN end up serving as shelter for these unwanted animals. Mice are able to enter into your home in the tiniest of holes and are very hard to get rid of once they have invaded your home. In preparation for the coldest months of the year, mice will attempt to push their way into the most inconvenient parts of your home in order to stay warm and protected. Common areas include heating units, attics and insulation. A mouse does not need much to survive, so once they have found their way into your home, they may be around for a while.
Humane Removal Services
At Minnesota Wild Animal Management Inc., we have over 35 years of combined experience in the industry. For this reason, we have seen mice in the most hard to get to locations of a home. We specialize in offering humane mice removal services designed to keep you, your family and pets safe. Our team dedicates our time to the following 5 step removal process that continues to be a success:
Make the Call – Give our staff a call the minute you see any signs of mice around your home.
Thorough Inspection – One of our mice removal experts will come and inspect your home in search of mice, nests and any damages caused by these pests.
Humanely Remove – Next, our dedicated team will quickly remove any mice from your home.
Fix Damage – Thanks to our diverse background, we not only remove pests, but we also can repair any damage caused by the mice.
Prevention – What good is removing mice from your house if no preventative measures are taken to keep them out. Our staff will go the extra mile to make sure that these annoying pests do not return back to your home.
While you enjoy the fall season and the last few months of great weather in Shoreview, MN, make sure to examine your home for unwanted pests including mice. If you believe that mice are attempting to enter your home this fall, give Minnesota Wild Animal Management Inc., a call today at (612) 237-8282. We'll get an inspection set up promptly before those critters get into the most inconvenient parts of your home!