Minnesota Bat Control and Removal
Unless you've been living in a cave these last few years you will have heard about the killer fungus that causes White Nose Syndrome and it's deadly march across the Eastern United States.  Geomyces destructans, the fungus that causes White Nose Syndrome (WNS) is possibly the most deadly disease to hit wildlife in the United States and is causing one of the most precipitous wildlife declines in recorded history.
WNS has killed millions of bats and every year pushes westwards leaving thousands more dead in its wake. The Little Brown Bat, once the most populous predator in the United States, is now threatened with extinction in perhaps as little as a decade if WNS is not stopped.
Minnesota is home to the common Bats, the Little Brown Bat and Big Brown Bat.  Two of them — the big brown bat and the little brown myotis — are considered species of special concern in Minnesota, meaning they are already threatened.  So far, it's proven to be almost 100 percent fatal in bats that contract it.
The disease is named for the white fungus that forms around the nose of the bats. It was originally found on the East Coast but is quickly moving this direction.
It's been six years since the dawn of white-nose syndrome — a bat-killing fungus that's sweeping west across North America — but the disease is so fast and stealthy that scientists are still struggling to keep up. They reached a major milestone this week, albeit a discouraging one: They calculated about how many bats have died so far.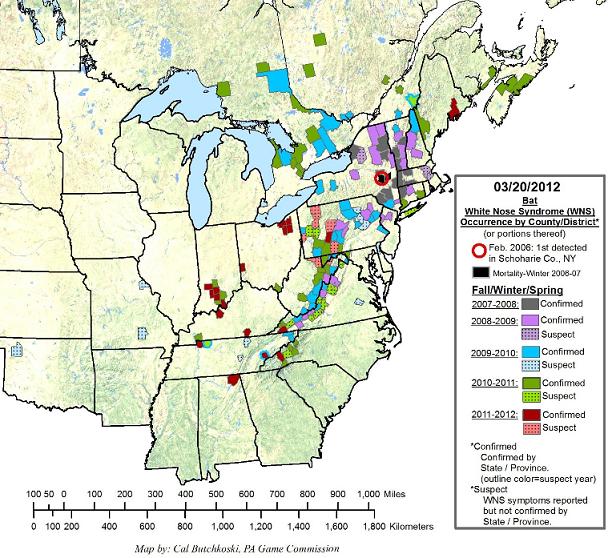 White-nose syndrome has killed at least 5.7 million bats in the U.S. and Canada, according to a new report from the U.S. Fish and Wildlife Service, and possibly as many as 6.7 million. After emerging in a single New York batcave in 2006, the fungus has spread to 16 states and four Canadian provinces, leaving a trail of roughly 6 million dead bats in its wake. That's a big jump from the agency's 2009 estimate of 1 million bats killed.
"White-nose syndrome has spread quickly through bat populations in eastern North America, and has caused significant mortality in many colonies," U.S. WNS coordinator Jeremy Coleman says in a statement. "Many bats were lost before we were able to establish pre-white-nose syndrome population estimates."
WNS is so wily, in fact, that scientists only identified its cause a few months ago. A previously unknown fungus called Geomyces destructans is behind the disease, which has a mortality rate as high as 100 percent in some batcaves, or "hibernacula." The fungus creates white fuzz on bats' noses and wings, and seems to wake them up from winter hibernation too early.
Extinctions are a real and imminent threat across North America. Some have worried that it could lead to the extinction of North America's most common bat, the brown bat Myotis lucifugus.  The loss of the little brown myotis and other bats affected by white-nose would be particularly catastrophic for humans because bats eat their body weight in bugs each night. Many of these bugs are agricultural pests or carriers of human disease.
A recent study found that the value of bats' pest-control services in the United States ranges from $3.7 billion to $53 billion per year. Boyles2011Economic Importance Of Bats
Bat Exclusion
Minnesota has very few caves left for bats to hibernate in, so they have found something better. Your home!
Bats commonly use your attic to rear their young. The most common bat/human interactions involve a single bat that has found its way into a house or a colony of bats that has taken up residence in an attic, chimney or other structure.  Once inside, if the habitat is good, the colony grows until the homeowner notices the bats flying out of the building, notices the droppings in the attic, chimney, outside, or even basement.  Sometimes a bat will get lost and find its way out of the attic and into the living area.
Bat control and Bat removal should be addressed as soon as they have been discovered.   If you should discover bats in your house the only effective long-term solution is exclusion.
Exclusion is a time consuming process. Trapping a Bat humanely is important to prevent injury to the Bat. Getting rid of Bats is a process that should be carried out with proper planning and procedures.
It is very important that proper inspection techniques and exclusion methods be utilized. If not, you could end up with numerous adult and/or young bats being closed in your walls, eves, or attic, causing a large sanitation problem from bat droppings.
In Minnesota the best time to exclude bats is very early spring (as soon as it gets above 50 degrees at night) and September, which gives the bats enough time to find a new hibernation site.
If your house is currently under attack by bats it is wise to call a Minnesota Wild Animal Management Expert that has experience in handling bat removals safely and in a timely manner.  Hiring a professional company guarantees the safety of you and your loved ones, along with prevention services to keep bats out for good.