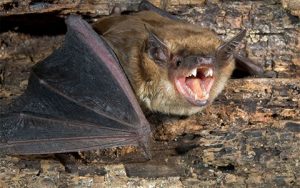 Bats can be very beneficial for keeping the Minneapolis mosquito population down. Of course the benefits only apply to bats that remain outside where they belong. A bat that gets into your home is another story. If you find one bat flying around inside of a home or building, there is always a chance that an entire bat community has taken up in your residence. Any sign of bats in your home, especially a bat that looks or acts sick, should result in a call to the Minneapolis bat removal service experts at Minnesota Wild Animal Management, Inc. Our highly trained professionals know how to find where the bats are hiding and how and where they got in. Once all of the bats have been safely removed our team can take active measures to keep them from returning.
Removing Unwanted or Dangerous Bats
Knowing what to do when you encounter an unwanted bat can save you from an unfortunate and possibly dangerous situation. Although rare, bats can carry the rabies virus, which can be transmitted to people and pets. Experts recommend that if an individual wakes up in a room where a bat has been found that they be evaluated by a medical doctor as soon as possible. Make an effort to capture the bat alive and without damage to the head so that it can be tested for rabies. Your doctor may recommend post exposure rabies treatments unless the bat is tested and found to not have rabies.
Single Bat vs Larger Bat Colony
When a single bat is discovered inside of a dwelling there is always a chance that it is part of a larger bat colony. Bats can enter through incredibly small spaces and nest inside of an attic, chimney, walls, eves or basements. They can leave large amounts of bat droppings that can result in fungal spores. Some people are prone to respiratory illness from inhaling fungus.
Information on MN Bats
Minnesota is home to several different bat species including:

Little Brown Myotis Bat
Big Brown Bat
Tri Colored Bat
Silver Haired Bat
Northern Long Eared Bat
Eastern Red Bat
Hoary Bat
Evening Bat

Bats are the only mammals that can fly. Their wings are actually similar to fingers with a connecting membrane that enables flight.
Bats play a vital role in the eco system by eating an enormous amount of mosquitoes, moths and flying beetles.
Bats can carry and transmit diseases like rabies and histoplasmosis (respiratory illness)
Bats fly around and hunt insects by using an echo system that is similar to sonar and radar.
Experts in Removing Bats
With special training and tools, Minnesota Wild Animal Management, Inc. is the one to call for removing bats from a home. Our experts come prepared to provide excellent results including with our responsive bat removal services. Ridding your home of bats requires lots of knowledge and skills that can be found with one simple phone call to the Minneapolis pest removal experts at Minnesota Wild Animal Management, Inc.
In Minneapolis MN and surrounding suburbs, schedule an appointment for Professional Bat Removal Services by calling one of the following numbers:
(612) 237-8282, (763) 785-1414, (952) 881-6662 or (651) 260-7378.
For Wild Animal Emergencies day or night call: (612) 237-8282