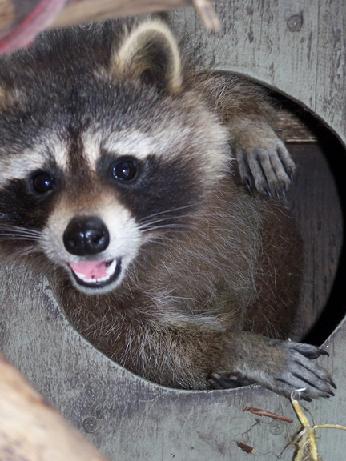 Looking for a humane wildlife control company in Minneapolis? Raccoon removal is a tough job but someone has to do it! At Minnesota Wild Animal Management Inc., we've got the right people and equipment to get the job done and do it fast! We are a Minneapolis wildlife removal company that is here to keep the wild in the wild and your home a place for humans and pets only! If your home is being ransacked by our furry friends of the forest, it's time to call the best humane wildlife control company in Minneapolis, Minnesota Wild Animal Management Inc.
Our Wildlife Removal Services
Serving the Minneapolis and St. Paul, MN area for many years, we have come to be experts in the process of raccoon removal in the home. We understand that as our communities expand, we are taking up more and more of their wildlife habitat. It's surprisingly easy for raccoons to wind up in your attic, garage, or within your home if the right precautions aren't made in advance. We are very familiar with the raccoons in the area as well as any other Minneapolis wildlife removal that's needed.
Raccoon Removal
As nocturnal animals, raccoons typically sleeping during the day and become very active at night. Knocking over garbage cans, tearing up lawns, and nesting in chimneys, attics, and even under decks are common things that these night critters do all while you are snoozing away. While they may be cute to look at while at the zoo, they can quickly be a burden, especially when they poop! Parasites in their feces can be harmful to both humans and pets if exposed. Not to mention the scary question of rabies! If bitten by a rabid raccoon, without treatment it can become fatal.
Our Wild Animal Control Process
If you spot an unwanted raccoon, it's important to call for Minneapolis wildlife removal. We will come out and inspect the area. Once a quote is agreed upon, we will take the right steps as a humane wildlife control company in Minneapolis, to remove the animal. Once removal is complete, we will repair and prevent this problem from ever happening again! We back all of our services with a 4 year warranty so that all of our customers can have some peace of mind.
So if you spot an unwanted critter and need Minneapolis wildlife removal, call Minnesota Wild Animal Management Inc., today at (612) 237-8282. If you are in desperate need of emergency raccoon removal, call this same number as it also serves as our 24/7 emergency hotline!