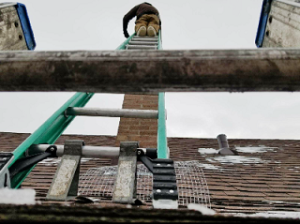 Birds are amazing creatures and bring us much joy. Many people enjoy bird watching and listening to their chirping and communicating. The most common types of birds you will find in your Minnesota backyard include the American crow, the American robin, the Northern cardinal, the black-capped chickadee, the blue jay, and the American goldfinch. If you look closely, you can likely find a bird's nest very close to your home. However, occasionally, when birds build their nest in your garage, underneath your deck, in your chimney, attic or the vents on your home, you may need professional assistance to remove them. Minnesota Wild Animal Management Inc. specializes in humane bird removal services for property owners in Minnesota.
Professional Wild Animal Removal Services In Minnesota
While birds will not generally cause humans any harm, their nests can attract parasites and you definitely do not want to bring those into your home. In addition, birds also leave their waste droppings everywhere you go, and this can create an unsanitary environment that needs to be fully sanitized. Our wild animal removal professionals will locate any birds and their nests quickly and remove them safely and humanely. Once that part of the process is complete, we will clean the area and repair it so that there is no longer a point of entry. Our prevention measures ensure that you will not have to worry about another bird "invasion" in your home in the future.
Our bird removal services are affordable, thorough and our team is responsive. We respond to requests 7 days a week and 365 days a year. We realize that you may not find a wild animal issue in your home during normal business hours. So, we have staff available to help you when you need it. We always recommend taking care of a bird or other wild animal problem quickly. We do not recommend trying to remove wild animals from your home on your own. We have the experience, skills and tools to complete this work quickly so that you can continue your normal activities.
Humane Bird And Nest Removal
Minnesota Wild Animal Management removes all types of birds as well as other animals from your property. We believe that these animals are not intending to cause problems or stress, so we work hard to remove them in a humane way. If you have questions or would like to speak to a member of our team, give us a call today at one of our 4 phone numbers: (763) 785-1414 • (612) 237-8282 • (952) 881-6662 • (651) 260-7378.