Minnesota Wild Animal Management  | Bat Removal
Bats, like most wild animals, try to avoid human contact. However, due to loss of their natural habitat, bats may establish roosts in attics or abandoned buildings. The best way to avoid contact with bats is to exclude them from buildings on your property.
Bats are protected by federal and state laws and generally it is illegal to kill them. Poisons will leave you with a building full of dead and dying bats which is not the solution to your problem. There is no such thing as an effective bat repellent. Period.
People will always try to sell you products, and magic cure-alls.  In the field of Wild Life Management, you'll often find more bogus products than effective ones. Bats are mammals. They are similar to you and I. There is no magic scent or smell or chemical or poison that will deter them. The internet is full of bat deterrent products, but none of them work. Devices such as ultrasonic sound emitters that make a high-pitched noise are completely useless.  The Federal Trade Commission (FTC) has issued a warning against them – ultrasonic sound emitters do not work. There is no quick and easy fix when it comes to bat control. It's best to have a Minnesota Animal Control Specialist with years of experience take care of the problem!!!!   Also the EXCLUSION, and if needed, properly and safely remove the droppings and sanitize the area, ensuring it is clean.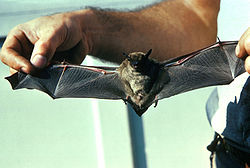 A number of methods have been tried to evict colonies of bats from buildings. Whether you do the work yourself, or call a Wild Animal Control Company, the ONLY CONSISTENTLY SUCCESSFUL METHOD IS PERMANENT PHYSICAL EXCLUSION.
Bats are not easily eliminated from inside the attic or wall voids of a building. In most areas there are restrictions on killing them, so the methods used to "encourage" them to leave and take up residence somewhere else have to be humane. When bats are roosting in houses or other buildings, the main objective is to get them to leave, and then prevent them from reentering.
You want the bats out, not dead.  To keep them out, all access must be blocked.  This is a difficult, technical process because bats can use very small access holes, the size of a quarter. We want them in the environment, not in your home.
It's All About Timing
Timing is critical for excluding bats. In the spring and summer, if a maternity colony has taken up residence, you will need to delay excluding the bats until August when the young are able to fly. If you exclude the adult bats while the young are flightless, the young bats will needlessly starve to death and may create an odor problem. Frantic mother bats, excluded from their young may mistakenly get into your living area when trying to find a way back to the roost to care for the pups.
Bat-Proofing
Whether or not you decide to delay excluding the bats for the above reasons, concentrate your efforts first on bat-proofing the living areas of your home. Make sure doors to attics and basements are sealed with draft guards and holes in any interior walls and ceilings are repaired so that a bat can't mistakenly enter the main parts of your house.