MN Raccoon Removal
Raccoons are curious, unique, and intelligent creatures. These characteristics help them survive in the wild, but can also make for annoying neighbors. Wild raccoons accustomed to being fed by well-intentioned people will generally lose their natural fear of humans and seek to move closer to their food source… your house!  Once raccoons take up residence in an attic or building, they can become very destructive and very difficult to remove.
If you are hearing sounds and noises in the walls, chimney, attic, or fireplace, it's most likely raccoons. Yep, that's right. A raccoon. Considering the season, it's most likely a mother raccoon and her babies. During the months of March through August, it is smart to assume that any animal denning or nesting around your house may be a mother with dependent young.
A lot of people love the raccoon, with their cute little burglar masks, and their shiny silvery fur, and their little baby hands that they touch everything with.  They are cute little things, but they can cause a heck of a lot of trouble!
Raccoons are probably the single most destructive home and garden pest most homeowners will ever experience. It is estimated that in the United States, approximately 900 million dollars worth of homeowners' insurance claims are filed each year because of damage caused by raccoons.
Raccoons can become a huge nuisance very quickly. As with all animals, they usually just do what they need to do to survive. Wild animals tend to be in and around our homes for one of two reasons: food or shelter. In the case of shelter, this is most common during the birthing and rearing seasons, which run from March to October, when wild animals need to find a safe place to give birth and raise their young, and during the fall, when animals are seeking a safe, protected place to over-winter.
Oftentimes this means ripping a hole in your roof and living in your attic. Once inside, they can really trash the place. These animals can knock over garbage cans, tear up your lawn, nest in your chimney, attics, or under your deck, and also ruin gardens. They are a force to be reckoned with compared to many of the wild animals living in Minnesota. In addition to being destructive to property such as your roof or chimney, they can also be a danger to you and your loved ones because of the germs and diseases they carry.
Raccoons Carry Deadly Parasites
Raccoons can carry a number of diseases, in addition to carrying fleas and ticks. The most common diseases they may carry are rabies, mange, distemper and the canine and feline parvovirus. All of these diseases are harmful to you and/or your pets and children.
Raccoon feces may also a great many diseases, such as roundworm eggs. Children especially may be infected with roundworm if they come into contact with raccoon feces. The roundworm larvae may spread to the eyes or brain, causing blindness or in some instances, death. The parasitic nematode lives harmlessly in the brains of about 50 percent of the raccoons in Minnesota and perhaps as many as 75 percent in some other parts of the country.
To protect youngsters from the disease, the Minnesota Department of Natural Resources recommend the following:
Avoid attracting raccoons. Make sure bird feeders are raccoon-proof, and store feed where raccoons can't get into it.
Avoid domesticated raccoons.
Keep youngsters away from areas with signs of raccoons, such as feces or tracks.
Don't let children put soil or objects from the ground into their mouth.
Wash toddlers' hands.
It is extremely important for the health of your family and pets that raccoon infestations are dealt with quickly, and that the contaminated areas of your home or yard are thoroughly cleaned.
The raccoon's antics and their cute little burglar masks might make them look adorable. But make no mistake… Raccoons are not cute and certainly not cuddly. Seriously, don't mess with them. If you have a raccoon problem, call a Minnesota Wild Animal Removal Expert today.
Exclusion
Exclusion is the key to eliminating den sites, but remember that raccoons are powerful animals and can become vicious when cornered. Their front paws are handlike, with toes that are long, flexible, and considerably dexterous. Raccoons are known to unhook simple latches.
To Animal-Proof Your Home We Suggest You Consider the Following Areas.
There are several key areas that must be taken into consideration in a comprehensive Animal Proofing plan.
Roof Vents
Constructed of light weight aluminum or plastic, they are no obstacle for animals seeking entry into attics.
Chimneys
If not screened properly, they make suitable living quarters for raccoons and squirrels.  Birds often fall into open chimneys and become stuck at the bottom.  Sometimes these animals even enter the "living space" of the home.
Plumbing Vent Pipes
If left unprotected, they are an invitation to animals seeking den sites inside of the house.  Once inside the pipe, wildlife often become stuck and obstruct the normal function of the buildings plumbing system.
Stove & Bathroom Exhaust Vents
If unsecured, they make ideal nesting sites for birds and sometimes squirrels.  This results in noticeable sounds, odors and insects.
Roof and Fascia Spaces
If not properly constructed or due to deterioration, they offer an opportunity for wildlife to chew on the free edge of the wood and gain entry into the attic.
Roof – Soffit Intersection
If left unscreened, they can be easily manipulated by an animal from the outside in order to establish a den site inside the attic space.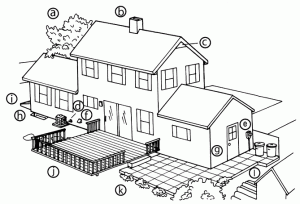 Figure Shown. The house and yard can provide homes for wild animals in the form of shelter and cover. An overhanging branch (a) can provide access to a roof, while the tree itself may be used as a refuge. An uncapped chimney (b) or broken vent (c) can provide access to warm, dry living quarters. Entry for small mammals can occur where wiring or pipes enter the house (d) and (e), vents are uncapped (f), doors are improperly fitted (g), ground-level window sills, foundations (h) and bulkhead doors (i) have gaps. Shelter can be found under decks (j); burrowing animals may tunnel beneath patios (k) or wood piles (l). (Adapted from Hodge, Wild Neighbors: The Humane Approach to Living with Wildlife.)
Homeowners should not attempt to remove an intruding critter from their home or property on their own. These pests can display erratic behavior and can bite, peck or claw if they feel threatened.
Please consult a Minnesota Wild Animal Control Expert for a permanent humane solution to your wildlife problem. A Professional will have the knowledge, skills, and equipment to get rid of raccoons and repair the damage to ensure they do not return. Once the raccoon has been trapped repairs can be made to seal the hole or point of entry to prevent wildlife reentry.