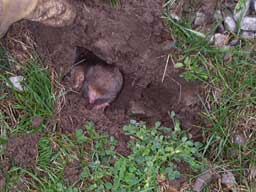 Moles are a true nuisance as they enter your yard. Normally, they don't just come out of nowhere. Something has happened to their previous home probably due to construction, damaging their dirt and now they have to move and they picked your yard. If you live in Maple Grove, MN you'll know that development is happening all around you and you're not the only one dealing with the hassles of moles tearing up your yard but the expert mole removal and prevention team at Minnesota Wild Animal Management has the experience and equipment to do away with your mole issue.
Hassles of Moles
Moles can be very tricky to get rid of and can take a lot of time and money, only to find out that they have returned or gotten worse. Contacting a professional is the best route you can take because they know where to look for the entrances and how to rid them for good.
Damages Left from Moles
Nobody likes the word damage but when you have a mole problem, then you know just how much damage they're doing to your beautiful yard that took you weeks to look great.
Weeds
When a mole tunnels through your yard, it is leaving your yard vulnerable for growing weeds in unwanted areas. It is allowing for the soil to expose and detaches the roots from the grass. This is where you start to see what looks like little trails going through your grass that is now yellow and dead looking.
Molehills and Lumpy Lawns
The infamous molehills start to pop up everywhere and now your yard is full of lumps. You may find yourself mowing the lawn one day and step in a soft spot. As you look down, you'll notice a small mound of dirt. This is a sign that your yard is infested with moles.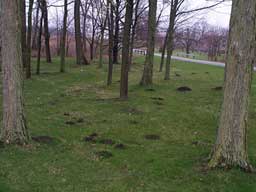 Moles can tunnel 18 feet under your lawn per hour. That's an insane amount if you think about how long they've been there. Your yard could have hundreds of feet tunneled and you would never know until the signs start to pop up. Moles tunnel for food and they're not going after your plant bulbs since all they eat are insects and worms but that doesn't mean your landscaping is safe.
Living in Minnesota, we get a lot of rain fall and after winter, we have a lot of water saturating the ground. Moles are attracted to wet soil because it's easier to dig in and now there are tons of worms to be found.
You may have searched the web for ways to "rid moles in my yard" and tons of sites pop up with "The Top 5 Ways to Rid Moles" and after trying a few of these techniques, you found yourself still with the problem or it's become worse. This may work on a mole or two but it doesn't prevent or stop the issue at hand.
Finding the right animal control company can be a headache but here at Minnesota Wild Animal Management Inc. we have years of experience dealing with yard pests.
Our Mole Removal Process
Inspection.
We will inspect your yard first before trying to rid the pest. We need to make sure where the mole is entering and where it's traveling to. Stopping the mole in its track and stopping it from traveling is the main key.
Remove.
After we have inspected the yard and found the mole issue, we will then remove the mole(s), ridding your yard of the little pests.
Repair.
Now we will repair your yard of the damages the mole(s) have made to keep any future pests from entering where the mole had entered in the first place.
Prevent.
Not only do we inspect, remove and repair, we also prevent the pests or other pests from entering your yard. We stand by a 4 year warranty to make sure your yard stays pest free and looking beautiful like you had it before.
Here at Minnesota Wild Animal Management Inc. we stand by a job well done and for those animal lovers like us, we ensure that the moles are removed in a humanely fashion. There's no need for violence when these animals didn't choose to move into your yard in the first place but had to since their home was destroyed.
Call us today to see if your yard is infested so we can help remove the moles and prevent any future infests.
Appointment Lines:
612.237.8282
763.785.1414
651.633.8600
952.881.6662