MN Mole Control and Removal
MOLES
The preferred diet of the mole is a carnivorous one. The mole will eat worms, grubs and adult insects. Mole holes are unsightly on lawns and can be disruptive to the root systems of garden plants. Moles lurk in their subterranean fortresses throughout the year. But gardening and lawn-care enthusiasts are made acutely aware of the need for mole control mainly during the spring and fall, especially after periods of rain, when moles push mounds of dirt up to the ground surface.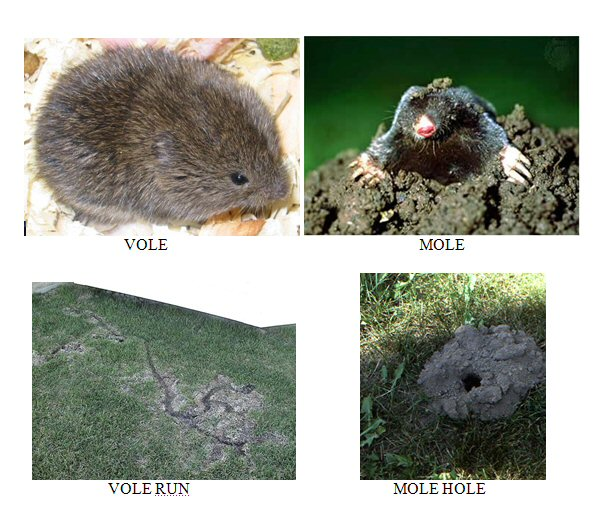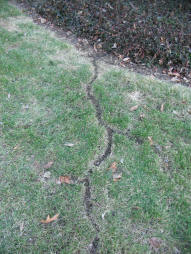 Moles produce two types of tunnels, or "runways" in your yard. One runway runs just beneath the surface. These are feeding tunnels and appear as raised ridges running across your lawn. The second type of runway runs deeper and enables the moles to unite the feeding tunnels in a network. It is the soil excavated from the deep tunnels that homeowners find on their lawns, piled up in mounds that resemble little volcanoes.
VOLES
A vole will gnaw at the base of a tree or shrub, especially in winter; thus the metal guards sold to prevent such vole damage. A vole may also damage flower bulbs and potatoes in the garden. But mainly, the vole will eat the stems and blades of lawn grass. And the runways they leave behind in the process make for an unsightly lawn. Voles can also inadvertently damage plants by burrowing into the root systems of trees and shrubs, causing young specimens to experience dieback or to begin to lean.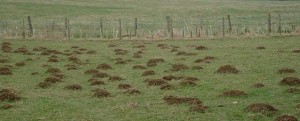 Whereas mole mounds, as stated above, are volcano-like in appearance, pocket gopher mounds are horseshoe-shaped. Voles, meanwhile, leave no mounds at all behind. Instead, voles construct well-defined, visible runways at or near the surface, about two inches wide. Vole runways result from the voles eating the grass blades, as well as from the constant traffic of numerous little feet over the same path.
Is Your Yard Suffering From Tunnels or Holes From Moles Or Voles?
Shrews use mole and vole tunnels, and voles can also use mole tunnels, so it is possible that you have more than one kind of critter living in your yard.
So, which do YOU have: Mole tunnels or vole holes
Check for current activity by stepping down on a section of the tunnel to see if it gets rebuild by the next day. If you have a hole, lightly close an entrance and see if it gets cleared out by the next day. This will tell you if you have current activity in your mole and/or vole tunnels.
Mole Removal Experts Minneapolis and St Paul Minnesota
If you have moles, you can try trapping them yourself or seek the services of a Minnesota Wild Animal Management Expert. These pests can be hard to remove, and even harder to discourage from coming back. They have been dealing with these animals for years, and know the tricks in removing moles. They can ensure the moles will be removed or deterred from coming back on your property.